Belleek Castle
Belleek Castle is a 15th Century Irish Castle situated in 1,000 acres of woodland and forestry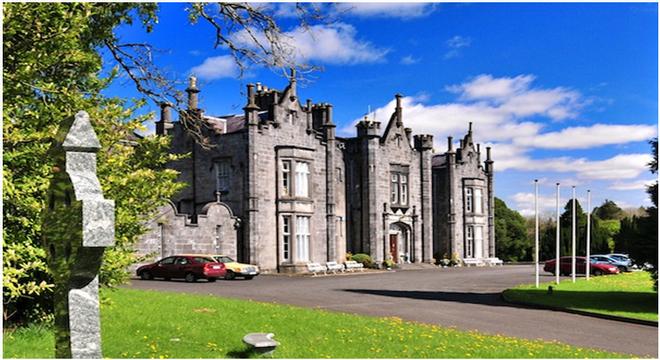 The 15th century Belleek Castle is situated in 1,000 acres of woodland and forestry, on the banks of the River Moy in County Mayo. Ballina is the largest town in Co. Mayo and home of the famous River Moy.
The historical and romantic Belleek Castle extends a warm welcome to travellers and visitors seeking the good life and to enjoy the facilities of this ancestral home of the Earl of Arran. Ballina has an extremely old history dating back to the Stone Age. There are numerous tombs (megaliths) to be found in the area of Ballina and Mayo.
The Castle is informal, cosy and friendly, rich in decor and antiquities with many great open fires to warm your steps back through half a millennium. The bright and spacious bedrooms are inividually designed, may featuring four-poster beds. Enjoy a delicous dinner in "Granuailes Candlelight Grill Room", become involved with the "Drunken Bullock" (the steak will be flambéed at the table) and served from a sabre all aflame! The cuisine can usually offer a fine "Moy" salmon caught that day or indeed succulent Connemara lamb which is always available. A goodly measure will confront you in the "Armada Bar" a dramatic recreation of the Captains Ward Room from the galleon of the "Spanish Armada" , constructed from Great Oak Balks salvaged from the galleons of the ill fated "Castile Squadron" wrecked on the Atlantic Coast of Co. Mayo four centuries ago.
Guests may enjoy a private viewing of the Castle museum by appointment, which includes the finest collection of 16th century armoury housed in Ireland. Belleek Castle is close to everything that matters: 3 Championship Golf Courses, tennis, squash, Indoor Riding Arena - International Surfing Beaches - Pitch & Putt. Equestrian Activity - Fishing River/Sea - untrammelled Country Riverside walks for miles, Churches and Archaeological pursuits.
Ballina's main claim to fame is its river which is internationally renowned as an exceptional source of salmon. As a result, the town attracts many anglers each season. In July each year, the Ballina Street Festival draws visitors from Ireland and further afield. For many, the highlight of the festival is the Heritage day when the town's traders, bar and shop owners transform their shopfronts and doorways into a replica of Victorian times.
Start planning your vacation...
Enquire Now
Reviews
Choose Ireland for your Dream Romantic Honeymoon