Galway and Mayo
Stay in lovely Westport and explore the surrounding sights of Galway and Mayo.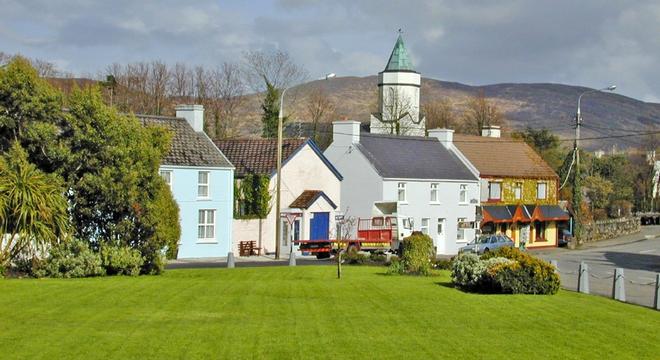 This one centre tour is based for the week in picturesque village of Westport, Co Mayo. The walks are at a relaxed pace up to 8 miles (12 km) daily, ideal for those who like their walking without too much effort. You will be taken a different direction each day to ramble and explore quiet country lanes, bog roads and wild Atlantic coastal paths.
Westport nestles under the shadow of Croagh Patrick, overlooking Clew Bay and its enchanting islands. There are some wonderful craft & pottery shops, bookshops, restaurants, pubs and art galleries as well as the beautiful tree lined boulevard know as The Mall. The town weaves its spell around everyone it meets.
Accommodation: Belclare B&B, Coast Road, Westport
For the duration of your holiday you will be based in a family run B&B just outside Westport town centre.
What your guided walk includes:
· 7 nights accommodation in Irish Tourist Board approved family run B&B
based on two people sharing
· 7 full Irish Breakfasts.
· 2 Dinners.
· 5 packed lunches.
· Experienced local guide throughout the week
· Transfers to and from walks each day
· Transfer to and from Westport train station at preset times
· Return ferry to Clare Island
Tour Highlights:
Croagh Patrick, Ireland's holy mountain and a place of pilgrimage for 5000 years
Clare Island - home to the legendary pirate queen Grainne Uaile, tour the 12th century Cistercian Abbey with its remarkable wall paintings.
Kylemore Abbey, Neo Gothic former home of Mitchell Henry now in use as a premier boarding school for girls by the Benidictine nuns.
Killary Harbour a fine example of a drowned glaciated valley and a superb coastal walk.
GRADE: 2 boots. Moderate walks of 6-9 miles (10-15km) per day with gradual ascents of up to 900ft (275m). Croagh Patrick 1600ft (490m).
Itinerary:
Day 1 Arrival
Arrive Westport train station on the afternoon train due at 16.15 hours and transfer to your B&B just outside Westport by Minibus. Your accommodation is the Belclare View B&B, Belclare, Westport, Co Mayo, Ireland. Tel / Fax + 353 (0)98 26090
Dinner tonight is in your B&B followed by a briefing of the coming week's activities.

Day 2 Kylemore Abbey
Breakfast at 8am. Depart the B&B at 9.00am - A 60 minute transfer South to Connemara in County Galway where you will visit Connemara National Park. After visiting the interpretative centre we will set out on the first hike of the week. Diamond Hill, so called for its glittering quartzite top that glistens in the sun is today's objective. A well defined path leads us gradually upwards to 1600feet. The views from the summit are majestic, Afterwards we will visit Kylemore Abbey (please note a small fee of about Euro 8.00 applies to enter the Abbey and Cathedral.) with its completely restored Victorian Gardens, The Abbey, now a girls boarding school, is run by the Benedictine nuns.
Dinner tonight is served in your B&B.

Day 3* Croagh Patrick.
Breakfast at 8am and depart at 9am - The wonderful quartzite coned mountain of Croagh Patrick has been a sacred place for almost 5000 years. As far back as 3000 BC our megalithic ancestors worshipped there. Before the birth of Christ, the festival of the god Lugh was held on its slopes. Lugh is the god whose name gives us the Irish word Lughnasa for August, and it would seem that there is a connection between the pagan worship which took place at the end of the summer and the date fixed for the present day Christian pilgrimage to Croagh Patrick. Croagh Patrick is Ireland's holy mountain where Patrick, the patron saint, spent 40 days and nights praying and fasting in 441AD. While on the summit Patrick was tormented by blackbirds which surrounded him and in later stories became demons and serpents. Ancient chroniclers say that Patrick threw his bell at them and banished them into the hollow known as Lug Na Deamhan, which is located on the North side of the mountain. It is a common belief that this is why no poisonous snake or reptile can be found in Ireland today. The plain iron bell said to belong to the patron saint is preserved in the National Museum. Walk Details: 8 miles, 1750 feet, uphill climb on a loose stoned, pilgrim track, small section of bog and country lanes.
*Please note that we do not ascend to the summit of Croagh Patrick Mountain at 2500 feet as owing to the steepness and erosion of the track near the top we consider it unsuitable. Our walk takes us to 1750 feet where we turn south and descend.

Day 4 Walk on Clare Island.
Breakfast at 9am and depart at 10am - We take a short sailing to Clare Island this morning. Clare Island is synonymous with Grace O' Malley, the formidable ruler of the Clew Bay district during the second half of the 16th century. One of the most interesting places on the island is the remains of the late 12th century Cistercian Friary, founded by the Monks of Abbeyknockmoy i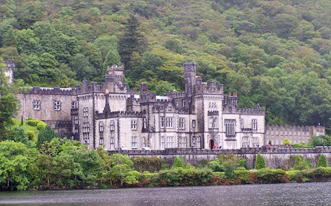 n Co Galway. According to local folklore, following the death of Grace O' Malley in 1603, her remains were interred in the decorated O'Malley wall tomb in the Friary. The Chancel Vault was once covered in wall paintings, patches of which remain. The walk will take you uphill on a good quality bog road from where you will view the island's cliffs before returning to the quayside for the return ferry. (Please note that the crossing to the island is subject to wind and weather conditions and may, in some cases be taken earlier in the week at the discretion of the guide.) Walk Details: 8 miles on good level surface on back country roads.

Day 5 Free Day
Breakfast at 9am -Today is your Free Day. Some of the many things you can do are golfing, fishing and horse riding but they need to be booked in advance and transport organized to get there and back. It also gives you the opportunity to catch up on your emails and laundry.
Day 6 Killary Harbour Coastal Walk
Breakfast at 8am and depart at 9am - A one hour drive South takes us once more to Connemara where we walk the Western Way. The walk starts just outside the village of Leenane and finishes in the Inagh Valley. On the route you will clearly see the ruins of famine villages and lazy beds, the name given to the potato ridges where the starving Irish peasant tried to provide food for his family. Walk Details: 12 miles, some ascent on mostly good track's and forest paths that can be wet and boggy in places. This hike can be shortened to 9 miles and can be done in reverse sometimes depending on the wind direction.

Day 7 Clew Bay
Breakfast at 8 and depart at 9. Our final days hike is a half day. We head North to the foothills of the Nephin mountains where a sequence of bog roads take us through peat bogs where you will see the traditional methods of turf cutting still in evidence. The walk also offers great views of Clew Bay and the Islands. Walk details 9 miles on good track. By early afternoon we will be back in the accommodation where after showering you will be taken to town for some shopping.

Day 8 Departure Day
After breakfast the Minibus will take you to Westport train station if you are planning on going elsewhere in Ireland.

Dates 2010: May 8, May 22, June 12, June 26, Aug 7, Aug 21, Sept 4

Price 2010: €860 per person sharing €175 single room supplement*

*The 1st 2 single rooms booked will avoid this single supplement- these rooms are not ensuite but have their own private bathroom.

Getting There:
Transfers to and from Westport railway station are included in the price at the preset times.

Private taxi transfer single Return
Knock airport to Westport €90 €180
Shannon airport to Westport €200 €400

By Rail:
Daily trains run from Dublin Heuston Train Station to Westport, for further information on times & fares – www.irishrail.ie

Start planning your vacation...
Enquire Now
Reviews
Choose Ireland for your Dream Romantic Honeymoon