Glasnevin Museum
The multi-award winning Glasnevin Museum hosts state of the art interactive exhibitions designed by Martello Media.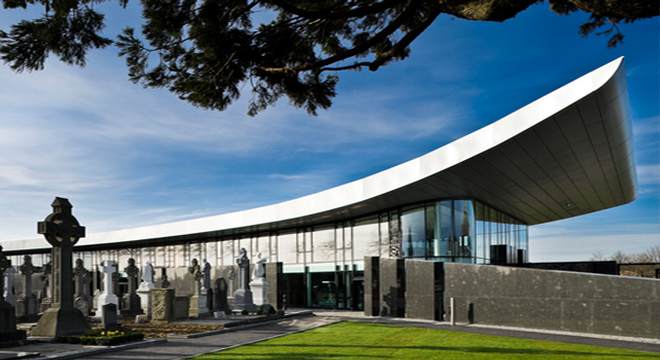 The multi-award winning Glasnevin Museum (based in Dublin, 2km from O'Connell St. on the north side of the city) hosts state of the art interactive exhibitions designed by Martello Media. The museum is a wonderful introduction to the wealth of national history within the walls of Glasnevin Cemetery (Ireland's largest cemetery) and is a must see for anyone interested in Irish Heritage and Genealogy. Please visit their website for more information on their permanent and temporary exhibitions at www.glasnevinmuseum.ie


With the opening of the museum, Glasnevin Cemetery has become a popular visitor attraction in Dublin. Many people are drawn here by the wealth of historical and cultural figures buried within its walls and take the opportunity to learn about the country's development through those buried here. Others simply come to see the final resting places of Ireland's rebels and revolutionaries including Michael Collins, Countess Markievicz, The O' Rahilly, O' Donovan Rossa and countless others. Many more visit to learn about the social history of Dublin and the hardships of hundreds of thousands ordinary Dubliners buried here who lived and died through the Famine, cholera epidemics and the hardships of tenement life. Founded in 1832 by the great statesman Daniel O'Connell, Glasnevin Cemetery was the country's first non-denominational cemetery and remains so do this day, therefore, the cemetery offers a truly fascinating cross section of Ireland and its people.


A trip to Glasnevin Museum includes a guided walking tour of the cemetery with a visit to Daniel O'Connell's crypt. We offer a General Historical Tour, a Literary Tour, a Women of Glasnevin Tour, a Military Tour and a Religions Tour. We are also in the final stages of developing an International Tour – this tour will visit the graves of the more internationally renowned figures buried in Glasnevin and make links with various Irish figures to the international stage.
Museum facilities include the Tower Café (run by With Taste ) which offers a wide and varied menu and the Glasnevin Trust Gift shop which stock exclusive gifts and souvenirs.
Start planning your vacation...
Enquire Now
Reviews
Choose Ireland for your Dream Romantic Honeymoon