Glens of Antrim
Circle around the lovely backroads and villages of the Glens of Antrim and then follow the spectacular seashore by the Giant's Causeway.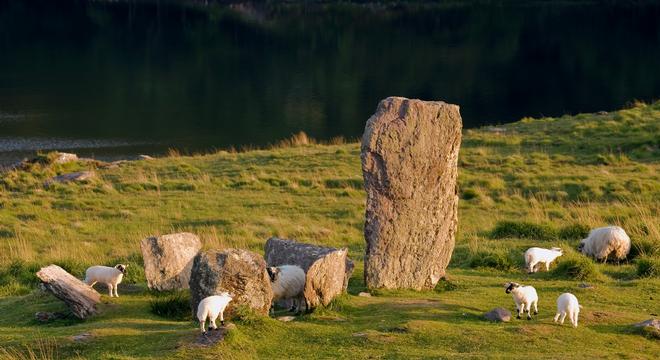 This tour offers you some of the most spectacular coastal scenery in the country, with cliffs and rolling green fields sweeping down towards the Irish Sea along a coastline dotted with ancient forts and castles. We also cycle inland up into the famous Glens of Antrim with some wonderful highland cycling on quiet backroads. Finally you visit Bushmills the oldest licensed whiskey distillery in the world and finish off the week with a visit to the Giants Causeway, the most famous landmark in Northern Ireland with its amazing basalt roach formations.
Note: This tour is also available as an Self-led tour, starting any day except Saturday.
What Your Guided Cycle Includes:

- 7 nights accommodation with full Irish breakfast
- 24 speed touring bike with a pannier bag
- Route maps and details
- Luggage transfer each day
- Support van and tour guide
- Transport back tp Belfast at tour end
DAY 1 (Saturday) Arrival in Belfast
We meet up in the centre the lobby of the Best Western Wellington Park Hotel on the Mahone Road in Belfast, after an introductory meeting with the guide we have dinner together giving you a chance to get to know your fellow cyclists.
DAY 2 (Sunday) Belfast to Carnlough (64 km / 40 miles)
A Sustrans Cycle path guides us out of Belfast along the coast to Carrickfergus and its famous 12th Century castle. We then head inland to avoid the Sunday drivers and up into the mountains before descending to the first of the Antrim Glens with beautiful views of the ocean below. That night we stay in the quiet seaside village of Carnlough.


DAY 3 (Monday) Carnlough to Cushendall (56 km / 35 miles)
In the morning we cycle back up into the hills and see Sperrin Mountain. It is here where legend has it that St Patrick spent his youth in captivity as a pig farmer before escaping back to England only to return as a Bishop to convert Ireland to Christianity. We then return to the coast for lunch in a seaside Hotel. The days cycle takes in the beauty of Antrim not only in its coastline but also in its famous and stunning Glens. Slowly but surely we make our way along the coast to the village of Cushendall where we base ourselves for two nights.
DAY 4 (Tuesday) Cushendall to Ballycastle (56 km / 35 miles)
In the morning we explore the pretty and less visited Glen of Glenaan and then return to the coast for lunch in Cushendun. In the afternoon comes one of the highlights of the week, a breathtaking cycle along the coast road to Ballycastle passig along green fields dotted with sheep, while you look out over beautiful views of Scotland and the Mull of Kintyre, just across the sea.
DAY 5 (Wednesday) Rest day in Ballycastle
One attractive option on the rest day is to take the ferry to explore nearby Rathlin Island which has one of the largest bird colonies in the country as well as a small seal colony. It is a wonderful place to spend a rest day giving you that sense of being away from it all that you can only experience on an island.
DAY 6 (Thursday) Ballycastle / Bushmills / Ballycastle (56 km / 35 miles)
We start with a cycle along beautiful coastline to view the hexagonal basalt rock formations at the Giants Causeway, Northern Ireland's most famous landmark. When you see this geographical wonder you will understand why is had been awarded World Heritage Site status. Our next stop on a day of spectacular sights is the Carrik-a-Rede Rope Bridge. This swinging bridge to Carrick-a-Rede island was originally erected by local fisherman over a 23m-deep and 20m-wide chasm to check their salmon nets. After taking the "rope-bridge challenge" we head on along the coast to Bushmills where we have lunch before heading back to Ballycastle for the night.
DAY 7 (Friday) Bushmills to Coleraine - Belfast (40 km / 25 miles)
For our last days cycle we head South back into the Glens towards the ECOS centre. From here we take a transfer back to Belfast and a last night on the town together.


DAY 8 (Saturday) Departure
After a hearty breakfast, like all good things the tour ends!
Tour Highlights:
- Glens of Antrim
- Rathlin Island
- Giants Causeway
- Bushmills Distillery
Group Tour Dates:
August 27
Start planning your vacation...
Enquire Now
Reviews
Choose Ireland for your Dream Romantic Honeymoon