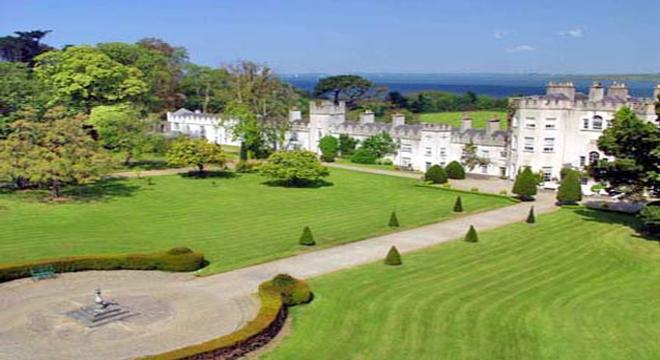 One of the great heritage houses of Ireland, Glin Castle has been home to the Knights of Glin, the FitzGerald family for some 700 years, and forms a fabulous residence, rich in elegance and history.
Situated on the banks of the Shannon, within stunning private grounds, Glin Castle was built in 1800, a homage to medieval grandeur and Georgian splendour. The history of the estate and that of the flamboyantly titled Knight's of Glin stretch back to the 12th Century, when the Norman FitzGerald's came to Ireland with Strongbow from Wales to aid the Irish High King Dermot MacMurrough. The Fitzgerald's were granted land on the banks of the Shannon and the title of the Knights of Glin. In about 1200 they built their first castle, the ruins of which can be seen the village of Glin.
Today Glin Castle is in the hands of the 29th Knight of Glin, whose association with Christies of London is evidenced in the astounding array of antiques and objects d'art as well as ancestral portraits and heraldic crests throughout the castle. From the colonnaded entrance, with elaborate plaster ceilings, the exquisite reception rooms are adorned with oil paintings and works of decorative art, together with the Knight of Glin's famous collection of antique Irish furniture built up over the centuries, retaining a sense of the history of Glin Castle.
A distinctive flying staircase leads to the bedrooms, each of which are sumptuously appointed and individually designed with traditional chintz decor and fabulous antique furnishings. Lavish four-poster and half tester beds, Irish prints and splendid old-fashioned bathtubs add to Glin Castle's sense of plush cosiness and unique charm.
Dining at Glin Castle is a suitably ostentatious affair of candlelight, glinting off crystal and silver set within the dining room with fabulous ancestral portraits and period features. The menu draws on freshly caught fish and locally reared lamb and beef with vegetables and herbs grown organically, within the castle's walled garden to produce Irish country house cooking at its best.
These gardens form the perfect setting for intimate walks through a gracious environment of clipped yew trees and Edwardian walled gardens with interesting nooks and crannies.
Glin Castle is in close proximity to the famous golf courses of Ballybunion, Adare and Lahinch as well as the bustling towns of Limerick and Killarney and is less than two hours drive from Shannon Airport.
Start planning your vacation...
Enquire Now
Reviews
Choose Ireland for your Dream Romantic Honeymoon