Iveagh Gardens
The Iveagh Gardens are among the finest and least known of Dublin's parks and gardens.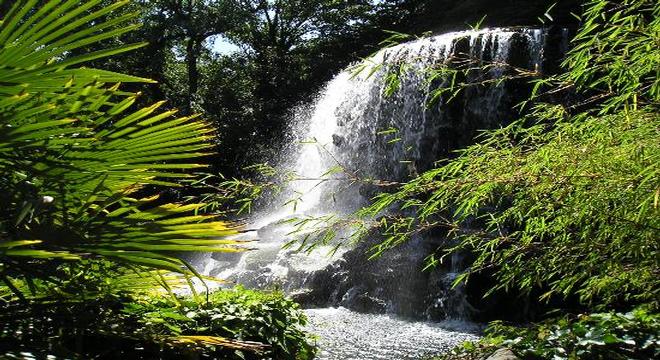 Location
Clonmel Street Dublin (Right off Harcourt Street, near St. Stephen's Green)
History of The Iveagh Gardens
The Iveagh Gardens are among the finest yet least known of Dublin's parks and gardens.
The gardens were designed by Ninian Niven in 1865 as an intermediate design between the "French Formal" and the "English Landscape" styles. The Iveagh Gardens dominated the artistic skills of the landscape Architect of the mid 19th century and display a unique collection of landscape features which include Rustic's Grotto and Cascade, sunken formal panels of lawn with Fountain Centre Pieces, Wilderness Woodlands, Maze, Rosarium, American Garden, Archery Grounds, Rockeries and Rooteries.

The conservation and restoration of the Gardens commenced in 1955 and to date most of the features have been restored, for example the Maze in Box hedging with a Sundial as a centre piece. The recently restored Cascade and exotic tree ferns all help to create a sense of wonder in Dublin's "Secret Garden".
In recent years, the Iveagh Gardens have played host to the "Taste of Dublin" Festival, a celebration of fabulous food and drink from Dublin's finest restaurants. Features include tutored wine tastings, the opportunity to enjoy sampler menus from the top restaurants and celebrity chefs' live cookery demonstrations as well as VIP dining and entertainment
For Ireland vacations packages to remember we can help. Ireland honeymoon deals are a speciality. If you're not looking for a honeymoon package, you may be interested in our Ireland chauffeur tours, Ireland Self Drive or Group Tours to Ireland deals. We have plenty to choose from to suit every need and request!
Visit Length
1hr 30mins
Admission
Admission to Iveagh Gardens is Free
If your Ireland vacation or holiday includes a tour of Ireland's finest sculpture or historical sites then a visit to the Iveagh Gardens is an advisable addition to your itinerary
Opening Times
March - October Sun and Bank Holidays 10:00-18:00
March - October Mon - Sat 08:00-18:00

December and January Mon - Sat 08:00-16:00
December and January Sun and Holidays 10:00-16:00

February and November Mon - Sat 08:00-17:00
February and November Sun and Holidays 10:00-17:00
Start planning your vacation...
Enquire Now
Reviews
Choose Ireland for your Dream Romantic Honeymoon