Powerscourt Estate
Situated in the Wicklow Mountains, the Powerscourt Estate is one of the most magnificent estates in Ireland.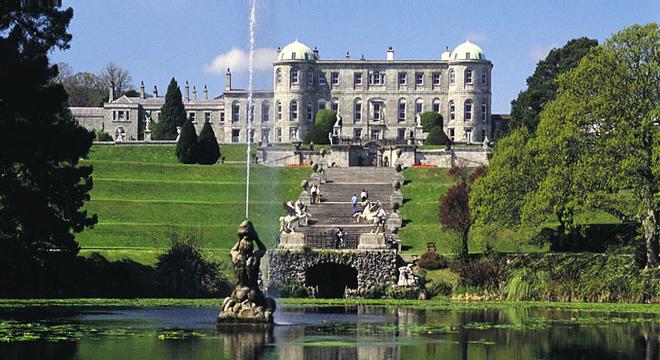 Location
Enniskerry, Co. Wicklow
History
Situated in the Wicklow Mountains , the Powerscourt Estate is one of the most magnificent estates in Ireland . When the Normans came to Ireland in the late 12th century, it was an important site for them strategically. In the 13th century, there was a castle built by the Power family, which was repeatedly attacked and repaired in the following centuries until Richard Wingfield turned it into an impressive mansion in 1731. The north front was adapted to present a grand appearance, while the southern front faced the gardens. It was originally only two storeys but in the late 18th century a third was added.
The gardens of Powerscourt Estate spread over 45 acres and were created in the 1740's. They consist of an impressive collection of walled gardens, ornamental lakes, rambling walks as well as a Japanese Garden . Five kilometres from the gardens is Ireland's highest waterfall, falling almost 400 feet into the Dargle Valley. The area is a natural home for many birds and a favourite summer picnic spot.
Admission
Admission fees to both the Gardens and the Waterfall
Information
Leaflets: Yes Audio Visual: Yes Exhibition: Yes Guided Tours: No
Opening Times
Opening Times: Gardens & Exhibition - open daily 9.30am to 5.30pm (dusk in winter) Waterfall - open daily depending on the season Jan / Feb / Nov / Dec: 10.30am - 4.00pm; Mar / Apr / Sept / Oct: 10.30am - 5.30pm; May / Jun / Jul / Aug: 9.30am - 7.00pm
Visit Length
1hr 30mins
Facilities
Restaurant: Yes Car Park: Yes Coach Park: Yes Disabled Access: Yes
Start planning your vacation...
Enquire Now
Reviews
Choose Ireland for your Dream Romantic Honeymoon