The Cliffs of Moher
Situated in County Clare and bordering the Burren Area.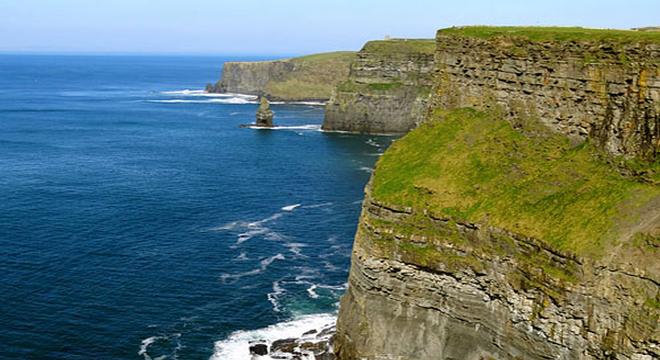 Location
Outside Liscannor, Co Clare
History
Situated in County Clare and bordering the Burren Area, the Cliffs of Moher are one of Ireland's most spectacular sights. Standing 230 metres above the ground at their highest point and 8km long, the Cliffs boast one of the most amazing views in Ireland. On a clear day, the Aran Islands are visible in Galway Bay as well as the valleys and hills of Connemara.
To the south of the cliffs is Hag's Head and the cliffs reach their highest point just north of O' Brien's Tower. The Tower was built by Cornelius O' Brien, a descendant of Brian Boru, to impress female visitors. The seastack, Breanan Mór, stands over 70 metres above the foaming waves. You are advised to dress warmly when visiting the cliffs because of the cool Atlantic winds blowing in off the ocean.
Nevertheless, a walk along the cliffs is not to be missed. Be very careful as there are no safety barriers and sections of the cliff sometimes give way. Those with a head for heights can easily walk to the edge of the cliff and view the Atlantic Ocean below. There is a tourist centre and a small shop, which
sells souvenirs. The Cliffs of Moher are one of Ireland's most visited attractions and when you've been there, you'll know why.
For Ireland vacations to remember get in touch. For group vacations Ireland information call us today.
Admission
No Admission Fees
Information
Leaflets: Yes Guided Tours: Yes Audio Visual: Yes Exhibition: Yes
Opening Times
O' Brien's Tower - March to October 29th (weather permitting) from 9.30am to 6.00pm
Cliffs of Moher Visitor Centre - Open all year 9.30am to 7.00pm. June to August 29th from 9.00am to 8.00pm
Visit Length
1hr
Facilities
Restaurant: Yes Car Park: Yes Coach Park: Yes Disabled Access: Yes
Start planning your vacation...
Enquire Now
Reviews
Choose Ireland for your Dream Romantic Honeymoon