The Wicklow Way
This varied trail leads the walker between some very fine summits in County Carlow, and along forest tracks over the northern slopes of Mount Leinster...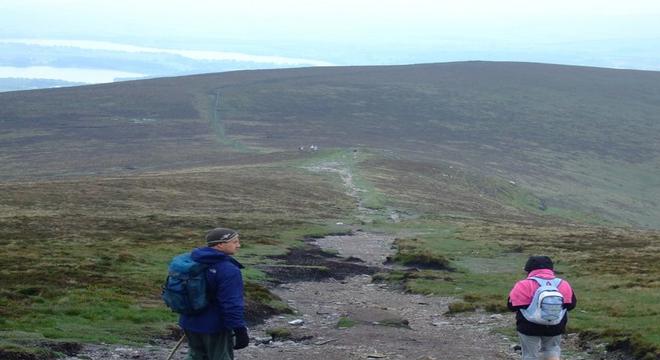 The Wicklow Way was Ireland's first Waymarked Way when it opened in 1982. Variety is the great characteristic of this route, which starts in the Dublin suburbs, climbs into the foothills of the Wicklow mountains, and switches from glen to glen through dramatic mountains to Aughavannagh. Views of Luggala, Glendalough, and wild Glenmalure eventually give way to lower ground, with sheltered snug farms and tillage land.


South of Laragh, many parts of the Way are above 1,500ft. The weather can change quickly at these altitudes so we at Discovering Ireland Vacation recommend bringing warm hiking gear, good boots and a First Kit plus emergency supplies.It's the sort of way that you will end up taking many worthwhile detours on. The stonewalled stronghold of Rathgall, said to be a residence of the Kings of Leinster, and the Mill of Purgatory - a cupboard in Aghowle Church - are amongst the many places of historical interest.
The Way finishes at Clonegal and if you're got the time or the inclination The South Leinster Way starts a couple of miles south west of Clonegal in Kildarin, Co. Carlow.

Start planning your vacation...
Enquire Now
Reviews
Choose Ireland for your Dream Romantic Honeymoon