West Cork and Kerry
One of the most popular tours. Takes in the beautiful Beara and Mizen peninsulas and the hermitage retreat at Gougane Barra.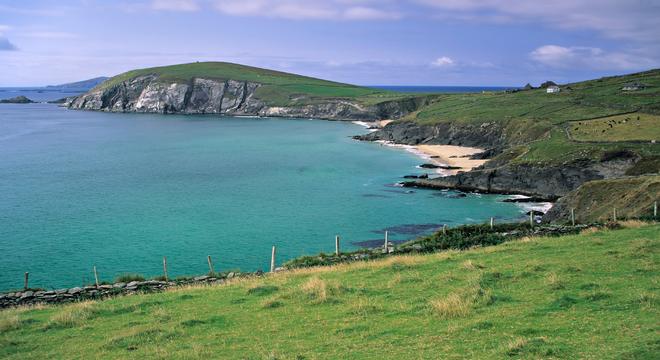 This tour covers some of the most spectacular scenery that Ireland has to offer. Shortly after leaving Killarney you will find yourself cycling between the majestic lakes that have made this area so famous to be shortly followed by a climb up to Molls Gap with its wonderful views of the Macgillycuddy Reeks, Ireland's highest mountain range. The rest of the week involves more of the same stunning scenery with a wonderful coastal cycle along Kenmare Bay. We then spend two days exploring the relatively unknown Beara Peninsula which we feel offers some of the best scenery you will ever see in Ireland. Towards the end of the week we head inland and stay at a beautiful Lakeside retreat at the source of the River Lee in West Cork.
Note: This tour is also available as an Individual or Self-led tour, starting any day except Saturday.
What Your Guided Cycle Includes:
- 7 nights twin sharing accommodation with full Irish breakfast
- One evening meal (Gougane Barra)
- 24 speed touring bike with front handlebar bag
- Route maps and details
- Luggage transfer each day
- Support van and tour guide
DAY 1 (Saturday) Arrival in Killarney
The cycling safari starts with a meeting of the group at 6:30pm in the bar of the Killarney Royal Hotel in Killarney. This is a meeting point only, you are not actually staying here. After an introductory talk from the guide, an evening meal is organised in the hotel, while your luggage is transported to our nearby guesthouse(s).
If you get there early you can leave your luggage with the hotel reception and explore this bustling town. If you have time, you could visit Ross Castle a wonderfully restored 16th Century Norman Tower House overlooking Lough Leane. You can even hire a boat from here and row out to a 6th Century monastic site located on one of the nearby islands. Ross Castle is about 1.5 miles from the town.
DAY 2 (Sunday) Killarney to Kenmare (37 km / 23 miles)
The tour starts off by following a cycle track into the beautiful grounds of Muckross House. Located on the grounds is a Franciscan Abbey founded in the 15th Century. It is now in ruins but is beautifully situated with a large yew tree rising up through the cloisters. After a stroll around the celebrated Muckross gardens there follows a wonderful cycle along a quiet path between two of the Killarney lakes before we return to the main road. A steady climb up to Molls Gap is rewarded with a delicious lunch in a restaurant with beautiful views of the surrounding mountains. In the afternoon we sweep down to the picturesque seaside town of Kenmare. There are longer cycles available if you fancy stretching your legs this afternoon.
DAY 3 (Monday) Kenmare to Castletownbere (51 km / 32 miles)
We follow a spectacular coast road hugging Kenmare Bay with its wonderful views of the Macgillicuddy Reeks Mountains, before stopping for lunch at a small pub overlooking the bay. In the afternoon you can visit the nearby Derreen Gardens with its amazing variety of flora. Leaving the Gardens you cycle west where you can visit an ancient stone circle or explore the beautiful scenery and quiet back roads of the Beara Way. Castletownbere, where we will spend the next two nights, is nestled at the foot of the Caha Mountains and is Ireland's largest white fish port.
DAY 4 (Tuesday) Castletownbere / Eyeries / Allihies / Castletownbere (40 km / 25 miles)
Today's cycle is a circular route, taking in the Beara Peninsula, one of the week's highlights, with its twisted mountainscapes and breathtaking coastal scenery. We begin by retracing our route to Eyeries; from here, to our lunch-stop in Allihies, you can really feel you are away from it all, experiencing an undiscovered part of Ireland well away from some of the bustling tourist routes. After lunch you continue cycling around the peninsula with more wonderful views of the ocean. You have the option of detouring off the main route for a scenic bike ride to the crossing point for Dursey Island, which can be reached by catching a ride on the only cable car in Ireland. After this interesting detour you return back to the main road and continue on towards Castletownbere, passing the entrance for Dunboy Castle, which is well worth a visit.
DAY 5 (Wednesday) Castletownbere to Glengarriff (35 km / 22 miles)
We cycle along the shores of Bantry Bay, one of the deepest natural harbours in Europe. Glengarriff, meaning "Rugged Glen" occupies a beautifully sheltered position, surrounded by mountains which, together with its mild climate, permits a variety of luxuriant plants to grow. Located just outside Glengarriff is Garnish Island, which was transformed between 1910 and 1913 from a bare limestone rock into a luxuriant garden island, known worldwide for its huge selection of plants and its Italian Garden full of exotic plants. A local regular ferry service provides a non-stop ferry service to the island, as well as water tours of Glengariff Harbour.
DAY 6 (Thursday) Glengarriff to Gougane Barra (34 km / 21 miles)
Today we head inland and cycle along quiet country roads with rolling fields dotted with grazing cattle and sheep, before arriving at the lakeside retreat of Gougane Barra, Ireland's first National Park and the source of the River Lee. This is a beautiful peaceful place and an ideal setting for your last night in the countryside before you head back to the hustle and bustle of the great metropolis of Killarney!
DAY 7 (Friday) Gougane Barra to Killarney (57 km / 35 miles)
For the last day we cycle up into the Coolea region via remote, peaceful mountain roads where you can really feel you are away from it all. We stop for a cup of tea at Irelands Highest Pub before descending back down into Killarney where we meet for a farewell night on the town together before heading our separate ways the following morning.

Tour Highlights:
- Killarney
- Beara Peninsula
- Gougane Barra
Group Tour Dates:
- May 14
- June 4
- July 2
- August 27
- September 10
Start planning your vacation...
Enquire Now
Reviews
Choose Ireland for your Dream Romantic Honeymoon