Wild West Mayo
The wide open plains of West Mayo are among the most unspoilt landscapes of Ireland. Includes trip to Achill Island.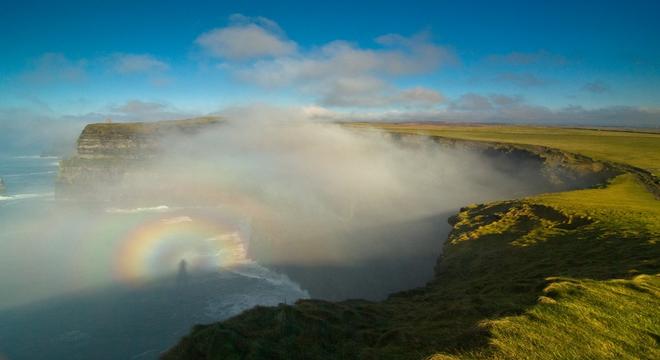 The Mayo Tour is like stepping back to an Ireland before the Celtic Tiger. It is the quietest of our routes in terms of traffic and offers up a wild windswept landscape full of changing light. You will get to visit the largest Stone Age site in Europe, an ancient cattle field system and also spend your rest day on Achill Island with its wonderful mountains and white sandy beaches as well as its breathtaking cliff walks. This is also the country of Grainnuiale, a famous female pirate in the 16th Century whose ships attacked fleets all along the coastline and we visit one of her fortress houses. Finally we stop at a wonderful early Christian monastic site situated in a most peaceful setting, before heading back to Westport and the less mystical real world.
What Your Guided Cycle Includes:
- Seven nights accommodation with full Irish breakfast
- One evening meal (in Ballyvaughn)
- 24 speed touring bike with a pannier bag
- Route maps and details
- Luggage transfer each day
- Support van and tour guide
DAY 1 (Saturday) Arrival in Westport
You meet up with the guide and the rest of the group at 6.30 pm in the Helm Bar in the harbour area of Westport, which is about two miles from the train station. It would probably be best to get a taxi. This is just the meeting point and may not necessarily be where you are actually staying that night. There is an introductory talk from the guide followed by an evening meal. After dinner you can check into your B&B before perhaps returning to a nearby pub for a drink and a music session.
DAY 2 (Sunday) Westport to Foxford (58 km / 36 miles)
Leaving the town on the Castlebar road, after a mile we turn onto the Western Way Mayo walking route. The route takes us along quiet backroads passing by lakes and bogland to our lunch stop. After lunch there is some nice lakeside cycling around Lough Conn and then onto Lough Cullin, which brings us to our Hotel in Foxford.
DAY 3 (Monday) Foxford to Ballycastle (38 km / 30 miles)
We start the day by visiting the historic Woollen Mills in Foxford after which we head out on back roads to follow along the eastern shore of Lough Conn before stopping for lunch in a pub. In the afternoon we again follow quiet roads to Ballycastle.
DAY 4 (Tuesday) Ballycastle to Belmullet (68 km / 42 miles)
Heading west on the coast road with wonderful views looking out over the Atlantic, we come to Ceide Fields, site of an ancient 5000-year-old cattle field system. It is the largest Stone Age site in Europe and there is an excellent interpretive centre here, which outlines the history of the site. Continuing on from the centre there is a dramatic cycle across open bogland with more wonderful coastal views all the way to the town of Belmullet.


DAY 5 (Wednesday) Belmullet to Achill (72 km / 45 miles)
Today we cycle around the Atlantic Coast through a wild barren landscape, past freshly cut fields of peat, to the village of Mulranney and from there cycle onto Achill Island and our night stop. There may be an option to cycle out on the isolated peninsula beyond Belmullet and take a fishing boat from Blacksod Point across the Bay to Doogort on Achill Island. From here it is a short cycle to the village of Keel where we spend the next two nights.
DAY 6 (Thursday) Rest Day in Achill
There are several dramatic cycling routes around Achill the most impressive being the Atlantic Drive, with its wonderful coastal views and beautiful landscape. You can also head to Keem Bay for a swim on its white sandy beach. For those feeling energetic you could climb to the top of the nearby cliffs, some of the highest in Europe, where you are rewarded with the most breathtaking views of the week.
DAY 7 (Friday) Achill to Westport (60 km /37 miles)
Leaving the Island via the bridge at Achill sound, we continue along the Clew Bay coast road and visit a 16th Century Tower House, one of the chain of forts built by Grainnuiale, a female pirate who controlled this whole region. We then visit a small but beautifully situated early Christian monastic site, before heading to Newport for lunch. In the afternoon we return to Westport for a final night on the town together.
Tour Highlights:
- Westport
- Lough Conn
- Ceide Fields
- Achill Island
Group Tour Dates:
July 2
Start planning your vacation...
Enquire Now
Reviews
Choose Ireland for your Dream Romantic Honeymoon