Dalkey Castle
Situated within the 14th Century Castle/Town House,Dalkey Castle & Heritage Centre,a premier and unique tourist destination offers visitors a fun and informative dayout.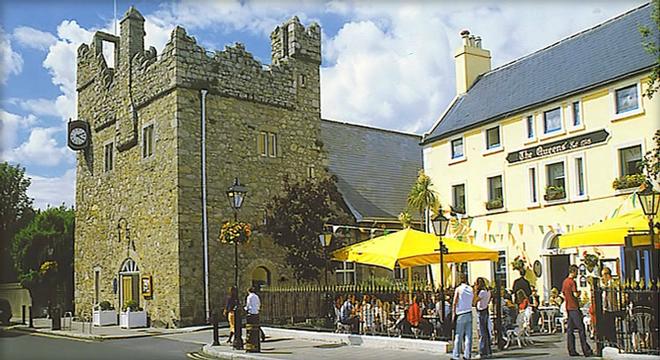 For a fun and informative day why not take the time to visit the historic heritage town of Dalkey! For history buffs and a fun family day out, Dalkey Castle & Heritage Centre situated within the 14th Century Castle/Town House is a premier and unique tourist destination lying less than 5 minutes from train (DART) and bus stations in Dublin.

All year round actors from Deilg Inis Living History Theatre Company enlighten, entertain and engage visitors in a Live Theatre Performance every half hour, six days a week. The actors play their parts and stay in character through thick and thin. These characters all work in Goat Castle (as Dalkey Castle was called then) in the 1500s and 1600s. Throughout the day they vividly describe their chores and their daily lives. These stories will enlighten and entertain visitors in this premier and unique tourist attraction.
Depending on seasonal variations at different times one may encounter the Ghost, The Merchant and Rupert the Archer. It's a fun day out for all the family and anyone looking for things to do in Dublin!

May 1st to October 31st sees the launch of Dalkeys Summer programme "Meet the Terrible Tudors" running every half hour (Excluding lunch break 13.00-14.00 daily). This takes you on a trip back in time to 16th Century Tudor Ireland when Ireland was ruled by Henry VIII.

For those who venture inside the Pale, the area most loyal to the King, lie tales of murder, intrigue, folly and fun. During a visit to Dalkey Castle, Lords and Ladies can meet the Castles resident Ghost, who has a terrible secret to share. The Master or Mistress of Dalkey Castle, loyal to the King, will recount tales of Henry's six wives who were divorced, beheaded, died, divorced, beheaded and survived. While Rupert, the short–sighted Archer, will reveal the many uses of the Garderobe, unveil a feast fit for a King and demonstrate how he defends the castle with his longbow.

All in all an event not to be missed!
Start planning your vacation...
Enquire Now
Reviews
Choose Ireland for your Dream Romantic Honeymoon