National Museum of Ireland
Turlough Park House is set in spectacular surroundings, framed by magnificent gardens, reflected in the still waters of its own lake.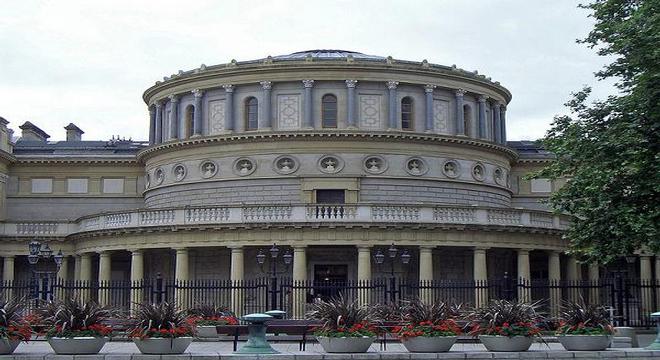 The National Museum of Ireland is divided into three sections: the Collins Barracks Museum in Benburb Street, the archaeological museum in Kildare Street and the Natural History Museum in Merrion Street.

The National Museum of Ireland at Collins Barracks is Ireland's new national museum of decorative arts and economic, social, political and military history. On display are artifacts ranging from weaponry, furniture, folklore and costumes to silver, ceramics and glassware. Amongst the objects in the exhibition's Curator's Choice is a Japanese ceremonial bell over 2000 years old and gauntlets worn by King William at the Battle of the Boyne. The double height 'Out of Storage' gallery provides a view of museum artifacts in storage. The vast array on display is explained through interactive multimedia computers located on both floors.

Opened in 1890, the National Museum of Archaeology and History of Ireland contains artifacts dating from 7000 BC to the twentieth century. The archaeological collection consists of The Treasury, featuring outstanding examples of Celtic and Medieval art such as the famous Ardagh Chalice, the Tara Brooch and the Derrynaflan Hoard. Ireland's Gold features the finest collection of prehistoric gold artifacts in Europe. Prehistoric Ireland introduces the visitors to the everyday culture of Irish prehistory. Other sections include the Viking Age Ireland, The Road to Independence and Ancient Egypt.

The Natural History Museum first opened in 1857. This marvelous zoological museum, described as one of the finest and fullest collections in the old cabinet style, still has the ability to inspire wonder and amazement in young and old alike. The Irish Room Collections illustrate the country's wildlife. Mammals occupy the centre of the room with a magnificent display of birds, butterflies and insects. The World Collection includes a skeleton of a 65 foot whale suspended from the roof while the Blaschka Collection consists of glass reproductions of marine specimens.

Together the collections span the entire Irish experience and offer unique insights into our country's heritage and history, alongside important displays from other great cultures of the world.
If you would like more information on Ireland, on our suggested Irish self drive or Escorted vacations please contact one of our Ireland based Guides who can provide you with a free quote.
Start planning your vacation...
Enquire Now
Reviews
Choose Ireland for your Dream Romantic Honeymoon