Russborough House
Architecturally, there is no other house in Ireland to rival Russborough House which is located near the borders of Kildare and Wicklow.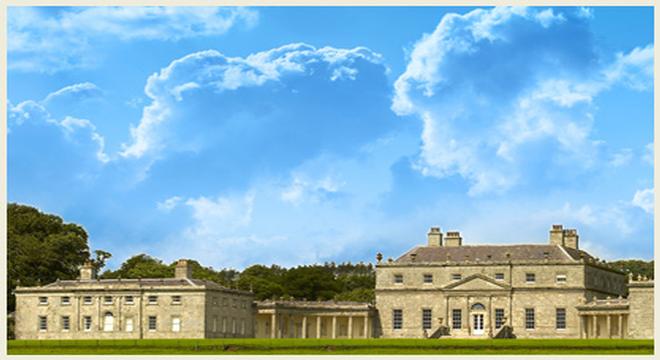 Location
Blessington, Co. Wicklow
History
Russborough was built in 1751 by Joseph Leeson, the 1st Earl of Milltown. Jpseph was a Brewer and also a member of Parliament. The house was designed by the German Architect Richard Cassells Russborough has a spectacular setting with magnificent views of the Blessington lakes and the Wicklow mountains and is widely regarded as one of Ireland's most beautiful houses.

Russborough was bought by Sir Alfred and Lady Beit bought in 1952 after they saw as advertisement for it in Country Life magazine. In 1976 Sir Alfred established The Alfred Beit Foundation, a registered charity, and opened the house to the public for guided tours. The house which is beautifully maintained and lavishly furnished contains fine Furniture, Tapestries, Carpets, Porcelain, Silver and much of the Beit Collection of Paintings. It has magnificent ceilings, Plasterwork and a Mahogany Staircase .
Admission
Adults - €10.00
Students & Senior Citizens €8.00
Student under 16 - €5.00
Family Admission (2 Adults & 4 Children under 16) €25.00
Information
Information Leaflets – Yes, Translations available in French, German, Italian & Spanish
All Tours are guided
Opening Times
April, every Sunday 10.00am – 6.00pm (last admission 5.00pm)
Every day – May, June, July, August & September 10.00am – 6.00pm (last admission 5.00pm)
Every Sunday & Bank Holiday – October 10.00am – 6.00pm (last admission 5.00pm)
House is open on all other days by appointment.
Visit Length
1 hour
Facilities
Cafe, Cark Park, Coach Park & Limited Disables Access
Start planning your vacation...
Enquire Now
Reviews
Choose Ireland for your Dream Romantic Honeymoon