Temple Bar
One of the oldest parts of Dublin, it is now the center of culture with numerous restaurants and trendy shops.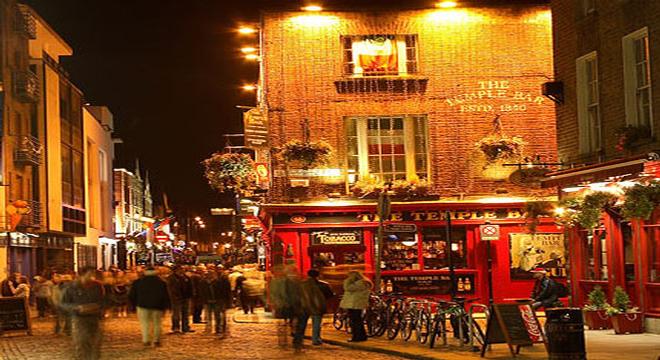 Location
Dublin
History
Temple Bar is the area in Dublin which over the last 10 years has changed most. One of the oldest parts of the city, it is now the centre of culture with numerous restaurants and trendy shops.
The network of streets around the Temple Bar area first began to take shape around the middle of the 18th century, when the area consisted of dirty houses and pubs. During the 19th century the area became more important, with many shops and other trading business setting up in the area. For most of the 20th century the area was in decline until it was earmarked as a centre for cultural development in the 1980s. The area is now awash with pubs, shops, restaurants and a film centre.
One of the most interesting things to do during the day around Temple Bar is to visit Dublin's Viking Adventure. Here you get an entertaining 40 minute tours of Viking Dublin. The villagers are played by actors who give accounts of life in the Viking days. The centre is open all year round and the tours are available.
Temple Bar was also the venue for the first performance of Handel's Messiah, which took place in 1742, at the Dublin Music Hall which had been opened the previous year. The entrance and the original door are the only elements of the Music Hall which remain intact today.
The only certain thing about Temple Bar is that you will never be short of something interesting to do or see.
Admission
No admission fees in most places
Information
Leaflets: Yes Guided Tours: Yes Audio Visual: Yes Exhibition: Yes
Extra Information
For more information on anything relating to Ireland vacations give us a call. We have Group Tours to Ireland, Ireland Self Drive and Ireland chauffeur tours Ireland chauffeur tours on offer and we also have Ireland Honeymoon packages where you can choose from romantic to adventure holidays.
Opening Times
No opening times available
Visit Length
Until you fall down!
Facilities
Restaurant: Yes Car Park: Yes Coach Park: Yes Disabled Access: Yes
Start planning your vacation...
Enquire Now
Reviews
Choose Ireland for your Dream Romantic Honeymoon