West Cork Coastline
The road winds along the River Lee and the West Cork coastline. Includes island trips and the Mizen peninsula. Also as Easy Tour available.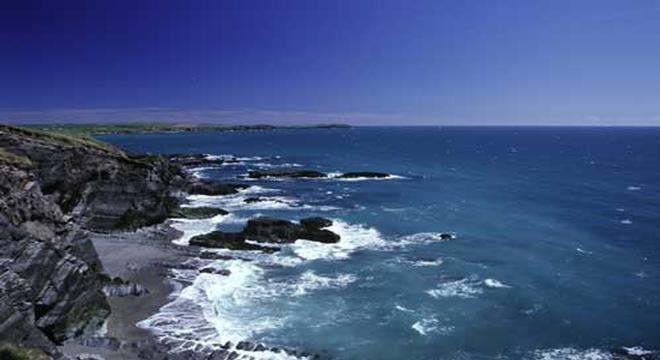 Quiet roads lined with wild, deeply scented flowers, this tour covers all types of landscape, from rolling green fields to spectacular coastal rides. West Cork is also best known for its colourful villages all of which are brightly painted in a wonderful array of vibrant colours, with wonderful hanging baskets brimming with flowers out the front of every pub and shop. This is the more cosmopolitan part of rural Ireland with many choosing to settle in this idyllic setting. This tour finishes in the colourful town of Kinsale, easily accessible to Cork Airport and city.
Note: This tour is also available as an Self led tour, starting any day except Saturday.
What Your Guided Cycle Includes:
- Seven nights accommodation with full Irish breakfast
- One Evening Meal (Gougane Barra)
- 24 speed touring bike with a pannier bag
- Route maps and details
- Luggage transfer each day
- Support van and tour guide
DAY 1 (Saturday) Arrival in Cork City
The group meets at 6.30 pm in the Bar of River Lee Hotel, Western Road. The hotel is only the meeting point and not our actual accommodation. However, if you get there before the meeting time and wish to explore the city you can leave your luggage in the left luggage at the hotel reception.
An introductory talk from the guide is followed by a light bar food menu, while your bags are transferred to our guesthouses. Afterwards you might decide to head into the city for a drink in one of Cork's lively pubs.


DAY 2 (Sunday) Cork to Gougane Barra (67 km / 42 miles)
After fitting you onto your bicycles, we head out by the banks of the Lee and travel along quiet back roads to a lunch stop in the market town of Macroom. In the afternoon we continue up the Lee Valley through rolling countryside to the wonderfully peaceful Lakeside retreat of Gougane Barra, the source of the River Lee and Irelands first National Park.
DAY 3 (Monday) Gougane Barra to Ahakista (43 km / 27 miles)
We cycle down to the coast past fields of grazing cattle and sheep to the coastal town of Bantry for lunch. In the afternoon we head out to the beautiful Sheep's Head Peninsula and cycle along quiet coastal roads with stunning views of the surrounding landscape. That night you have a home cooked dinner in your guesthouse before joining the group in a unique small tin shack pub for some quiet pints of Guinness.
DAY 4 (Tuesday) Ahakista to Baltimore (26 km / 16miles)
In the morning we cycle to the fishing village of Schull and take a boat ride across roaring water bay (usually very calm!) to the small fishing village of Baltimore where you will spend the next two nights.
DAY 5 (Wednesday) Rest Day in Baltimore
The day can be spent in rest and relaxation or you can take part in a variety of activities including a visit to Cape Clear Island with its stunning views looking back at West Cork. You can go horse riding or hike through the beautiful forest that overlooks the unique Lough Hyne, the only salt water lake in North Western Europe. For those who want to experience a unique part of Irish rural life you can take a bus to the local town of Skibbereen for the weekly cattle market.
DAY 6 (Thursday) Baltimore to Clonakilty (57.5km / 36 miles)
In the morning we cycle along quiet backroads to the peaceful Lough Hyne and then follow the West Cork coast to the village of Glandore where we have lunch overlooking the beautiful Glandore Harbour with its two islands, Adam and Eve. In the afternoon we visit a 3,000 year old stone circle, one of the best examples of its kind in the country, before following another scenic coastal cycle to the bustling town of Clonakilty. We stay overnight in a family run hotel.
DAY 7 (Friday) Clonakilty to Kinsale (57,5 km / 36 miles)
In the morning we follow the coast road before heading inland to the village of Timoleague, where you can visit a 15th Century Franciscan Friary. After lunch we continue to hug the coastline all the way to the historic town of Kinsale, site of the Battle of Kinsale in 1601. Kinsale is a very colourful cosmopolitan town with a wide range of excellent craft shops. Later that evening we have a final farewell night out on the town together before we go our separate ways the following morning.
You are free then to make your own way back to Cork anytime on Saturday. We do not arrange this transfer but there are regular buses from Kinsale to Cork and it may be worth bearing in mind that the airport is on the way. The airport is about half an hour at the most from Kinsale.
Tour Highlights:
- Gougane Barra
- Sheep's Head Peninsula
- Mizen Head Peninsula
- Baltimore
Group Tour Dates:
- June 25
- July 23
- August 13
- September 17
Easy Tour of Cork
This self-led tour, starting any day exept Saturday, is specifically designed for those who wish to spend a little more time off the bike, with the cycling being more in the region of 18 - 25 miles (29 -40 km). There are also 2 rest days included.
The Easy Tour of Cork still takes in the more spectacular parts of the regular Cork tour. On the rest days there are opportunities to visit the National Park of Gougane Barra, visit Cape Clear Island or just relax on one of Cork's beaches.
This tour is also suitable for families.
This tour is also available as an Self-led tour, starting any day except Saturday.
Start planning your vacation...
Enquire Now
Reviews
Choose Ireland for your Dream Romantic Honeymoon