Athlone
Athlone town with it's central location in the country is an ideal base for an Ireland Vacation. It's central location made it a town of importance in the past. Situated on County Westmeath's border with Roscommon, its proximity to the River Shannon adds greatly to the significance of the town.

​    
The most interesting of the attractions/ in the town is Athlone Castle which dates from 1210. Because of its strategic importance it came under many attacks, none more so than when Cromwell was exerting control over the country. The oldest part of the castle now houses the Athlone Museum which has two floors, one with artifacts of prehistoric times and one with a section dedicated to John McCormack (1884-1945), said to be one the greatest tenors of all time.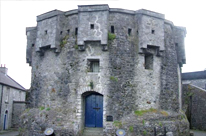 Also an interesting activity is to take one of the cruises up or down the Shannon. In fine weather these cruises are magnificent and offer an excellent opportunity to relax. Fishing is also a popular activity, and boats and fishing equipment are available for rent. Lockes' Distillery Museum offers an interesting insight into the history of distilling in the locality and guided tours of ancient whiskey-making methods.
Athlone derives its name from "Ath Luain", meaning "Ford of the Moon". Athlone has long been a garrison post and, due to its strategic geographical position, it has played a prominent role in many battles. Even today the Custom Barracks is an important asset to the town and area.
Athlone is a thriving town, enjoying the benefits of its centrality, at the confluence of the major east-west and north-south routes. It has excellent bus and rail services, and a fast growing population ensuring a wide range of facilities and services.