Bray
Bray is a dormitory town situated 12 miles south of Dublin. Bray is perhaps best known as one of the oldest seaside resorts in the country. During fine weather, many Dubliners throng to Bray to the seaside and the promenade.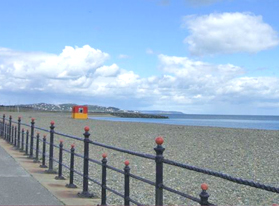 James Joyce lived in Bray between 1889 and 1891 at One Martello Terrace, which was the setting for a scene in the famous novel A Portrait of the Artist as a Young Man. Today the house is owned by an Irish Member Of Parliament. Limited tours are available.
Killruddery House and Gardens are 2 miles south of Bray. The rare and usual 17th century gardens are well worth the visit. A bracing 5 mile cliff walk around Bray Head to Greystones allows excellent views of the Sugar Loaf Mountain. Bray Head is famous for its rail tunnels , the longest of which is just under 1 mile long.
Getting to and from Bray couldn't be easier with the town on the DART (Dublin Area Rapid Transit) train line .