Bundoran
Bundoran is Ireland's most popular seaside resort, with a wide variety of family orientated activities, wide sandy beaches, and as host to the Irish National Surfing Championships, is one of Europe's premier surfing spots.
Bundoran or Bun Dobhrain, meaning "foot of the little water" was just a tiny village of little importance until it became the summer residence of Viscount Enniskillen in the 19th Century, followed by the leisured classes of the Victorian age. Since then Bundoran has changed dramatically, developing into a typical "beside the seaside" resort, very popular with families from all over Ireland. The town boasts a scenic location, overlooking Donegal Bay, flanked by the foreboding Benbulben and Dartry Mountains, while the Atlantic Ocean laps the wide stretch of award-winning blue flag beach.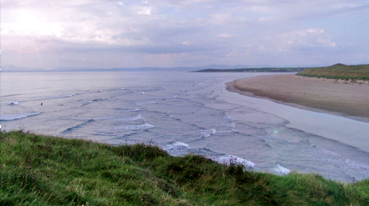 Like many seaside resorts today Bundoran is very busy in the season and may not be to everyone's tastes. Its selection of entertainments range from arcades and fun fairs, traditional music sessions in and cabaret shows, to golfing, horse riding and watersports.
The Tullan Strand, just north of the town centre is famous for its breaking waves and hosts the Irish National Surfing Championships in April each year. Bundoran has an excellently located 18 hole Championship golf course and horse riders can enjoy evening rides across Bundoran's wide sandy beaches. For the kids there is also the Waterworld indoor aqua adventure playground, with wave machine and the "Whizzer Slide", the fastest water slide in Ireland, so they say!