Glandore
The village of Glandore has a place in the hearts of visitors and local people alike. Although little more than one street, the village is acclaimed as one of the prettiest in Ireland. It overlooks Glandore Harbour and as a result is a favourite amongst the boating and sailing fraternity in summer. Its position in the path of the Gulf Stream ensures a mild climate all year round. Consequently its flora is diverse and of great interest. Due to the location, plants can be found in bloom here even if they are out of season elsewhere.
Glandore, or Cuan Dor in Irish (meaning 'Harbour of the Oaks'), was one of the earliest settlements in West Cork . The Normans arrived and built two castles in 1215. They were later taken over by the O'Donovan and have been inhabited continuously up to the present day. The very attractive Church of Ireland (built 1860) with its quaint entrance gate through the rock is a much photographed feature.
An important event in the development of Glandore began in 1824, with the arrival of James Redmond Barry. He was a very philanthropic landlord, who developed the fishing, got the pier built as well as a boatyard in Union Hall. He established schools to teach fishing and domestic economy. He built a hotel (The Glandore Inn) in 1828 and organized the first Regatta in 1830. A school was built in 1835 as well as an Agricultural school at the model farm in Ards.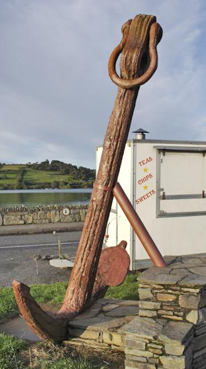 Despite these efforts, Glandore was one of the worst hit areas in West Cork during the Great Famine, losing 45% of its population. William Thompson, the philosopher and one of the first Socialists, is another famous name associated with Glandore, he established a commune here as a model for his socialist philosophy. Marx refers to him in Das Kapital.
Curiously, Glandore does not have a shop amongst its amenities. However it does offer some excellent restaurants and hostelries, among them the Marine Hotel and the Glandore Inn.