Letterkenny
Letterkenny is located at the mouth of the deep and lovely Lough Swilly . The town grew in the 17th century from a small fishing village to a prosperous centre of commerce. It is now the principal town in Donegal and the Ecclesiastical Seat for the Diocese of Raphoe.
Check out Speer's Lane, at the corner of Upper Main Street - this was the site of two Rabble Days held annually in May and November. These were hiring days when children between the ages of 11 ands 16 were sold for periods of 6 months to wealthy farmers of the Lagan Valley.
St. Eunan's Cathedral dominates the skyline on all approaches to the town and at night, the warm floodlit and graceful spire is a welcoming sight. When the Cathedral at Raphoe passed to the Church of Ireland after the Reformation, the Catholic Bishop had no permanent seat until the Letterkenny cathedral was opened and dedicated to St. Eunan and Columba in 1901. The design is inspirational and it is well worth a visit to savour the atmosphere and the art of this fine building.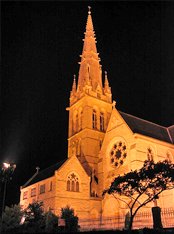 On the High Road is the County Museum, housed in the old workhouse. Opened in 1843, the workhouse operated until 1922. After a period as a hospital and administrative offices, the building was converted in 1987.
Surely a definite inclusion within your visit to this area of County Donegal must be the Glenveagh National Park. 15 miles northwest of Letterkenny, lies 16,500 hectares of mountains, lakes and woodland. The Scottish style castle and the spectacular gardens which surround it contrast magically with the rugged landscape. A herd of red deer was introduced into the Park in the late 19th century by the wife of the landlord at the time. John Adair, the landlord, was notorious after he evicted 240 tenant farmers from his land, immediately after the Great Famine. This and more of the history of the Park is explained by an audio visual display in the informative Visitor Centre while morning and afternoon teas are served in the adjoining tearooms.