Portrush
Portrush is probably the most popular seaside resort in Northern Ireland . Many older people have great childhood memories of having spent their holidays there. It is a world of funfair rides, amusement parks, indoor swimming attractions and just about any holiday recreation imaginable. Indeed, Barry's Amusements of Portrush are famous all over Ireland.

Established for over 50 years, Barry's is the largest amusement park in Ireland with the latest rides for indoor and outdoor entertainment. Kiddieland, which can be found next to Barry's, offers smaller rides for young children. Waterworld is an indoor holiday paradise with thrilling water flumes, water cannons, sprays and jacuzzis while, if you wish to pamper yourself, the Health Suite includes steam room, sauna and sunbeds for adults.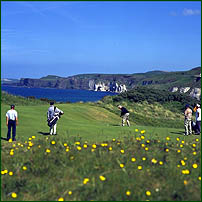 The Skerries are a chain of rocky, grass covered islands lying about two miles off the coast. During the last war, there was a plan to join the islands to Ramore head in Portrush to make the largest harbour in the world There are boat trips round the islands from Portrush Harbour.
However Portrush's biggest attraction is certainly its proximity to the magnificent Causeway Coast but in particular the world heritage site, the Giant's Causeway . The 40,000 six sided basalt columns are a geological wonder and various rock foundations have found their place in local folklore. Portrush is the perfect place to use as a base for touring the Causeway Coast region.
Also in the town is the Dunluce Centre, a brilliant entertainments complex which features three major attractions for visitors of all ages.