Waterford City continued 2
Oliver Cromwell
Perhaps this ill-treatment inspired the citizens of Waterford to open their arms to the Catholic Confederate army during the Great Rebellion of the 1640s. Indeed, Waterford was the only city not to fall to Cromwell, despite a furious assault by the Great Protector's 12,000 strong army in 1649. Nonetheless, the city did fall a year later when Cromwell's army, under the leadership of his son-in-law and one-time country gent, General Henry Ireton, rolled up and offered everyone honourable terms for surrender. Oddly enough, the honourable terms were honoured and practically nobody was butchered at all.

William of Orange
Waterford declared for James II during the Williamite Wars, providing a bed for the confused ex-monarch while he was on his way south to Kinsale after his defeat at the battle of the Boyne in July 1690. A few months later, the city was surrounded by King Billy's Orangemen and decided its best bet would be to surrender, grovel and plead for forgiveness. For his part, King Billy reckoned Waterford was strongly in need of some good sturdy Protestants to keep everyone in check. It just so happened that the Protestant Huguenots of France were then in a terrible pickle what with Louis XIV's increasingly authoritative Catholic regime in their homeland. Billy said why don't you come and live in Waterford? 100 Huguenot families thought this was a grand little plot and that's why there's a place called the "French Church" in Waterford to this day.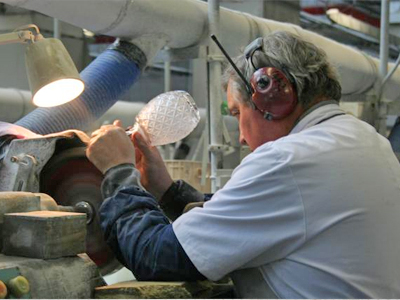 Waterford Crystal
In 1990, worldwide sales of Waterford Crystal topped out at a whopping Irish £86 million which is a helluva lot of money for one glass factory no matter how you look at it. Nearly 70% of this crystal went across the Ocean to North America. The business began in 1793 under the guidance of the brothers George and William Penrose. 70 years later, dedication to the principles of purity and character earned Waterford Crystal several gold medals at the Great Exhibition of 1851 in London. Unfortunately, the business promptly went bankrupt on account of drastic under-funding and excessive taxation.
In 1947, two years after the end of World War Two, Waterford Crystal revved up its engines once more and has gone on to become one of the country's leading household names and prestigious employers. I'm not going to go into the ins and outs of how you make and cut and blow all the different crystals. If that's the sort of information you're after, then head for the Waterford Crystal Visitor Centre in Waterford.

John Roberts, Architect of Waterford
Waterford recently hosted an acclaimed tribute to the man responsible for building some of the city's finest buildings, namely John Roberts.The original Danish church on Bailey's New Street, built by Reginald in 1050, was replaced by the present (Protestant) Christ Church Cathedral with its towering spire in 1773. This was a legacy of the great John Roberts (1749 - 1794), the architect behind much of Waterford's Georgian magnificence. This fine creamy-grey structure, inspired by the designs of Christopher Wren, was considerably extended in 1891. The classic (Catholic) Holy Trinity Cathedral on Barronstrand Street, another work by Roberts, was completed in 1796 and substantially altered in the 19th century. Everyone seems to have been very impressed that Roberts made no bones out of building two Cathedrals in Waterford - one for Protestants and one for Catholics - during this strange era of religious divides.
John Roberts was also responsible for building the City Hall on the Mall in 1788. Originally designed as Assembly Rooms and later used as the Victorian Theatre Royal, this building now houses the Waterford Municipal Art Collection, featuring works by Louis le Brocquy, Paul Henry, Jack B. Yeats, Lamb and Keating. Among the miscellaneous relics held there are the sword of General Meagher and two flags carried by his Irish Brigade at the battle of Fredericksburg.

Arguably Roberts greatest (albeit posthumous) legacy to Waterford was the Chamber of Commerce on George Street, originally designed as a home for a shipping magnate, completed in 1795. The oval cantilevered staircase with exquisite stucco decorative stucco-work is considered one of the finest examples of Georgian interior design in existence. Whether it was Roberts or Richard Cassells who built the former Bishops Palace on Cathedral Square is still open to debate; either way it's a handsome three story building that ought to catch your eye.

Industrialisation
Waterford underwent another boom period in the 18th century, perhaps boosted by the opening of trade with Newfoundland and the Americas. Most of the present day O'Connell, George and Parnell Streets, together with The Mall and Parade Quay, were constructed in this era of Georgian and Victorian optimism. A 9th century Danish structure, located near the City Hall and known as Saint Olaf's Church, was restored by Bishop Milles in 1734. The recently restored and surprisingly merry Saint Patrick's Catholic Church on Jenkin's Lane - the oldest Catholic church in County Waterford - was built in 1750 and doubled up as a corn store and place of worship for Jesuits during the penal law times in 17th and 18th cenuries.

Victorian Days
By 1800, the great 11th century Reginald's Tower was little more than a battle-scarred shell. In 1819, it was restored and converted into a prison; 40 years later it passed to the Corporation and today the Tower is a Civic and Maritime Museum housing audio-visual presentations on the history of Waterford together with various displays and exhibitions on Corporation archives and Civic Regalia.

The Ionic-style Court House on Catherine Street was built in 1849, replacing an earlier building erected by the great James Gandon, and provides access to the 15 acre People's Park. A late 19th century Methodist Church on Greyfriars street now serves as a Heritage Centre with permanent exhibitions on Waterford's Viking heritage, aided and abetted by on-going archaeological excavations in the area.

A local hero named Sir Thomas Wyse (1791 - 1862 ) was particularly inspirational in getting everyone, ecclesiastical and business, motivated to set up shop in the neighbourhood. Wyse's early life makes for rather interesting reading. Born at St. John, Waterford, educated at Stonyhurst College, Lancashire, and Trinity College, Dublin, young Tom was doing very well for himself Lincoln's Inn, London, when he upped and split on a Grand Tour of Europe. The Napoleonic Wars were just coming to and end and so Tom went to see Italy, Greece, Turkey, Egypt and the Middle East. During this time he fell in love with and married Laetitia Bonaparte, eldest daughter of Lucien Bonaparte, a marriage that produced two sons but ended unhappily in 1828 when she left him. Tom then returned to Ireland and threw himself into the successful fight for Catholic Emancipation, being returned as MP for Tipperary (1830) and Waterford (1835 - 47). An enlightened man, passionate about education and industry, he died in Athens in 1862 while serving in his 13th year as British Minister in Athens.