Westport
Westport, on the shores of Clew Bay in Co. Mayo, is designated as one of Ireland's "heritage towns". It is one of the few planned towns in the country and was designed in the 18th century by James Wyatt. It is located in one of Ireland's most scenic areas, and is an attractive and lively town. The Mall is one of Westport's most interesting present-day features. It consists of a row of lime trees overhanging the Carrowbeg River. If you like shopping, browse through the many shops of Westport with their old-world shop fronts. The emphasis is on locally-produced knitwear and pottery.
Westport, with its miles of coastline and many beautiful sandy blue flag beaches is growing more and more in populartity as a destination as part of an Ireland vacation. These are ideal for swimming and walking.There are sailing and yachting facilities available in Westport. There is also a water leisure complex. Fishing is very popular in the area, with shore fishing and boat fishing available locally. There are also sea and fresh water fishing as well as deep sea fishing facilities in the area.There are numerous walking and cycling tracks in Westport. There is something for all tastes with hill, coastal, forest and historical tracks. There are challenging walks for the more adventurous as well as peaceful, relaxing walks. Every year in September, the Westport Arts Festival creates a unique and exciting atmosphere. During this time there is something for all the family to enjoy.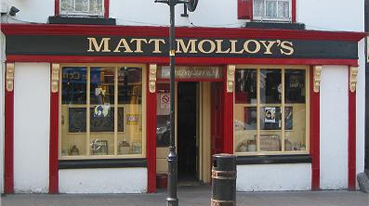 Six miles from the town is one of Ireland's more famous landmarks - Croagh Patrick. In 441 AD, St. Patrick is reputed to have spent the forty days of Lent on the top of the mountain praying and fasting. Every year, on the last Sunday in July, Reek Sunday, a pilgrimage takes place when people come from far and wide to climb the mountain, many in their bare feet. Throughout the year, people of all ages make the rewarding climb to the summit. The climb provides some spectacular views of Clew Bay.
Westport House lies just west of the town. It was the seat of the Earls of Altamont, descendants of the Browne family, who were Tudor settlers. In a wonderful setting, this historical and elegant house has something to keep all the family entertained.
Clare Island , located 3.5 miles off the Mayo coast, is well worth a visit. With its rugged cliffs and breathtaking views, it is the largest of the 365 islands in Clew Bay.
Clew Bay Heritage Centre is located on the Quay, Westport. It is a fascinating museum of local heritage, traditions, people and places. It has a full genealogical service.