Fermoy
Fermoy is situated 20 miles north of Cork City on the main Cork-Dublin road. The Blackwater river flows through the town making it a very popular fishing destination.
The town itself is quite young, although evidence of a settlement can be traced back to ancient Irish history when the O'Keeffe's were chieftains of the area. Fermoy has been a centre of education since the 7th century when St. Finnchua set up a school. There has been an establishment of education in Fermoy ever since. However, Fermoy didn't develop as an important town until the arrival of the army in the late 18th century. It was to remain a garrison until after the Treaty of 1921. The bridge over the Blackwater river was built in 1865.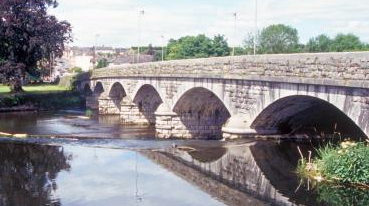 Today, Fermoy's main attractions are based on the river. Angling is extremely popular, with perch, roach, rudd, and pike being the most commonly caught fish. Also in the town is a thriving rowing club which, while welcoming beginners, also competes at the highest level. There is also the excellent Fermoy Leisure Centre which includes a 25 metre indoor swimming pool - a welcome addition for the winter.