Kenmare

One of Ireland's designated Heritage Towns, Kenmare is an important example of a planned town. Designed and built by the first Marquess of Lansdowne in 1775, the town is laid out in an X-plan and has a fine, wide main street and square. The winner of Kerry's tidiest town in 1998, Kenmare's location nestled between the high mountains and the sea explains its name in Irish, Neidin meaning "little nest".
Better known now as an attractive tourist town with many fine restaurants, hotels and interesting craft shops, Kenmare retains its links to a more ancient past. Not far from Market Street is the Bronze Age Druid's Circle, consisting of 15 standing stones. Whether it was used as a burial place or for sun worship, we no longer know but its importance to the early inhabitants of Kenmare is without question.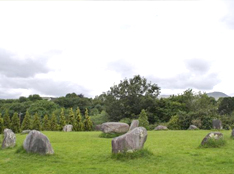 Kenmare is on the famous Ring of Kerry, a circuit along the coast of the Iveragh peninsula. The Ring offers both spectacular scenery and interesting places to visit including Staigue Fort, Derrynane House and Valentia Island, among others.
The Heritage Centre in the renovated Courthouse explains the history of Kenmare using personal sound tours. There are exhibitions here on Kenmare Lace, the Nun of Kenmare and other aspects of local history. Follow the Heritage Trail from the centre.
Derreen Gardens on the Beara peninsula are best visited in early summer for the glorious display of rhododendrons. However this sub-tropical garden is also famous for its grove of tender New Zealand tree ferns and its magnificent woodlands running down to the sea.
Kilgarvan Motor Museum, just outside Kenmare, has an unusual collection of vintage and classic cars on display, some of which are still in use.