Valentia

Valentia Island, situated off the coast of the Ring of Kerry , is the most westerly point of Western Europe. Next stop west of Valentia is the U.S.A. 1900 miles of ocean away. Accessible by road via the Portmagee Bridge or car ferry leaving from Cahirciveen daily between April and October, many tourists flock to this island annually because of Valentia's historical significance and natural beauty.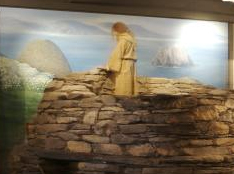 The first ever transatlantic link was laid here in 1857, putting Cahirciveen in direct contact with New York, even though no connection had been established with Dublin. The history of the Valentia - US cable can be viewed at the Valentia Heritage Centre situated near Knightstown, the focal point of the island. This event is only part of the history surrounding this mystical island. The slate quarry opened in 1816 provided one of the main sources of income for the island. This quarry was used to supply flagstones and roof-slates for some of the most famous buildings in the world, including the "House of Commons" at Westminister and the London and San Salvadore train stations.
There are plenty of early Celtic Church remains around the island as well as numerous standing stones, wedge tombs, remains of castles and Ring forts. The "Skellig Experience", situated just when one crosses over the island via road, is a must to visit. It contains exhibitions of the life and times of the monks who lived on the island and is an ideal place to go if visiting the Skellig Islands for background information. The Glanleam Estate is another major tourist attraction. The former residence of "The Knight of Kerry" (the Fitzgerald family), it is now a converted guest-house open to the public to view the sub-tropical gardens.
There is plenty to do on the island for the more active visitor, with plenty of outdoor activities on hand. These include hill walking, cycling, canoeing, deepsea angling and shore fishing. There is a pitch and putt course to be found on the island, however the main activity that the island has to offer is scuba diving. This is reflected by the fact that three main diving centres are available on the island â Des Lavelles, the Dive Centre and the Valentia Island Sea Sports Centre.
The main village on the island is Knightstown, called after the "Knight of Kerry" who formerly owned the island. It is the main hub of activity on the island. There are a number of bars and restaurants on the island with a reputation for some excellent food. The other village on the island is Chapelstown - a lot quieter then Knightstown.