Mallow


Co. Cork
Description
In 1724, curative springs were discovered in Mallow. The town was founded as a Spa town, and it became a holiday health retreat from 1730 to 1810. The curative season began in April and lasted to October. The town began to fashion itself after Bath, building promenades, throwing balls, creating a Long Room, and even bottling spa water to sell in Cork city. The town became known for the wild men who loved to drink, gamble, and hunt - they were called the Rakes of Mallow. Here is an excerpt from a 1753 ballad, written in their tribute: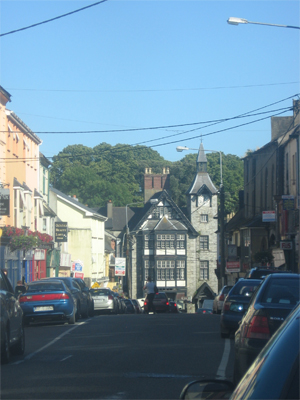 Living short but merry lives,
Going where the devil drives,
Having sweethearts, but no wives,
Live the Rakes of Mallow.
Hope this gets you into the spirit to wander through the streets of Mallow.
What to See and Do
The Tourist Information centre here is excellent. They publish their own informative pamphlets about local sites, history, accommodations, activities, and more. I recommend visiting here first to help plan your trip. The area is full of archaeological sites.
Visit the Clock House, built in 1855. See the Spa House, constructed in 1828 over the spring well - the house eventually became the headquarter of the Rakes of Mallow. Today it is home to the Energy Agency Office, which serves as a place to advise the general public on energy conservation and renewable resources. Visit Mallow Castle, built King John in 1185AD. Visit Johnny Roche's Castle, or Castle Curious, in Doonawanly, about three miles north of Castletownroche village, east of Mallow on the N72. On your way, stop Killavullen for the farmer's market each Friday. Trace your ancestry at the Mallow Heritage Centre (www.mallowheritagecentre.com). Tee up at several places in Mallow - the Mallow Golf Club, the Ballinamona Golf Club, or the Doneraile Golf Club. Or just putt around at the Mallow Golf Practice Range. Go fishing in Ballyhass Lakes, two lakes stocked with trout, just northwest of town (www.ballyhasslakes.ie). The Blackwater river is the second largest river in Ireland. It is a good place to go fishing or canoeing. Go horseback riding at the Eden Hill Equestrian Centre or the Ivy Bridge Equestrian Centre.
Where to Eat and Drink
Food Capers is a bakery and deli. Brudar's bakery and coffee shop creates traditional Irish scones, breads, and cakes. Urru Culinary Store has a wide array of gourmet and artisan foods, including cheese, breads, wines, and desserts. They also carry books and kitchen wares.
Where to Sleep
The Longueville House and President's Restaurant is Mallow's premier four star accommodation (www.longuevillehouse.ie). The Hibernian Hotel and Leisure Centre is a three star accommodation, built in 1770. It is located at the center of town (www.hibernianhotelmallow.com). Ballyhass Lakes, a superb place for fishing with two stocked lakes, has holiday homes available (www.ballyhasslakes.ie). Mallow has many B&Bs to choose from. Stop by the Tourist Information centre for booklets listing B&Bs, self-catering accommodations, and hotels.
How to get there
By car:
From Cork, head north on the N20 to Mallow.
From Limerick, head south on the N20 to Mallow.
By train:
See www.irishrail.ie for a current schedule.
By bus:
See www.buseireann.ie website for all current travel details and restrictions.
When to go
April through October, when the days are longer and the sun more likely to show. Watch Showjumping at the Summer Show in August or the Pony Show in November.