Skibbereen
Skibbereen in West Cork is the most southerly town in Ireland
Situated on the Ilen river, the town has a troubled past. Founded by English settlers after nearby Baltimore was sacked by Algerian Pirates in 1631.
In the 19th century the town was one of the hardest hit by the Irish potato famine. The mass graves from that era can still be seen at the local cemetery. Locals sing a song that recount those famine times, its called Dear Old Skibbereen. Beware, it's a tear jerker.
The Southern Star is a weekly newspaper that is printed in Skibbereen. Originally called the Skibbereen Eagle, it was famous in the last century as the paper which "kept its eye on the Russian Czar". It was censored by the ruling British regime during the War of Independence for its strong republican views.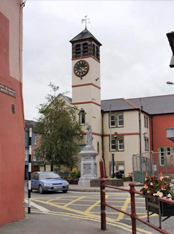 Today, Skibbereen's fortunes have taken a turn for the better and it is now considered the luckiest town in Ireland for winning the Irish Lotto.
In summer time its a bustling place and it is one of the main towns on the West Cork tourist trail.
On Wednesday there is a cattle mart and here is chance to see agricultural Ireland almost unchanged from the way it was in bygone days.
On a Friday there is a Country Market, on Saturday a Farmers' Market and here you can purchase home baked items such as jam, biscuits, soda breads, pies and organic produce grown on local farms.
There are a number of restaurants serving wholesome country food and a wide variety of places in which to stay and eat.
Skibbereen (An Sciobirín in Irish)is truly a magnificent base in West Cork for your Ireland vacation or holiday.
Discovering Ireland Vacation recommended accommodation in or near Skibbereen
The West Cork Hotel - Hotel in the heart of Skibbereen
The Moorings, Self catering homes in Skibbereen
Caseys Hotel, Baltimore
The Celtic Ross Hotel, Rosscarbery
The Maritime Hotel, Bantry
The Inchydoney Island Lodge & Spa, near Clonakilty
Restaurants / Places to Eat in Skibbereen
Kennedys @ The West Cork Hotel - Ilen Street
Over the Moon Restaurant - Bridge Street
Annie Mays Restaurant - Bridge Street
The Riverside Cafe - North Street
Kalbo's Cafe - North Street
Things To Do