Baltimore
Baltimore is a small coastal village, situated 13kms south-west of Skibbereen. A popular summer destination, Baltimore is a busy fishing port and is the base for the southernmost RNLI lifeboat in Ireland. Also the point of departure for ferries to the islands of Sherkin and Cape Clear, Baltimore has strong associations with the sea and the pier is a hive of activity both summer and winter.
The village was famously attacked by Algerian pirates in June 1631. Two inhabitants were killed in the raid and over a hundred were captured and taken away as slaves. As the pirates had a pilot from Dungarvan to guide them and those kidnapped were English settlers, theories abound as to how and why the Sack of Baltimore was organised.
Many factors combine to make Baltimore the ideal location for water-based activities - the sheltered harbour, the warm Gulf Stream influence, the many islands, the clean waters. Even if you are a dedicated landlubber, a short ferry trip to Sherkin is well worth the effort! Diving, watersports and boat hire are all available and the village has two sailing schools.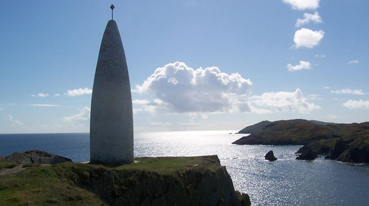 The navigational Beacon at the entrance to Baltimore Harbour, the sight of which has warmed the heart of many a returning fisherman or sailor, is the image most often associated with the village. Positioned high above the channel between the mainland and Sherkin Island, it is visible from near and far and visitors are rewarded with spectacular views towards Sherkin, Cape Clear, the harbour and the mouth of the Ilen River.
The remains of the O'Driscoll Castle, Dun na Sead, tower over the village and are a reminder of the once powerful O'Driscoll clan who controlled much of the South West for a number of centuries. Spain Tower to the south-east was another O'Driscoll stronghold.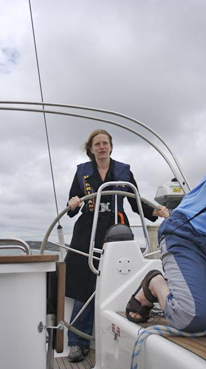 Near the Glenan's Sailing Centre, you will find the boatyard where, in 1926, the ketch 'Ilen' was built as a service vessel for the Falklands Island Company. Designed by round-the-world yachtsman Conor O'Brien and sailed by him and two Cape Clear islanders to Port Stanley, this important boat was recently brought home from the Falklands by the Ilen Trust and is currently being restored.
The beautifully situated Lough Hyne is a unique inland sea-water lake. A protected marine reserve, the level of the lake changes as the tide ebbs and flows through the narrow 'rapids'. Unusual plant and animal life exist in the clear water and the lake is important for marine research. The nearby wooded hill, the highest vantage point in the area, is worth climbing for the spectacular views seaward.
Visiting Baltimore:
Attractions:
Lough Hyne
Skibbereen
Tours:
Ireland Vacation Packages