Ballycastle Town
Ballycastle is a small rural town situated on the most north-easterly tip of County Antrim . Enjoying popularity amongst holiday makers and residents alike, Ballycastle lies in the district of Moyle with views of the surrounding mountain ranges, forest parks, glens, lakes and coastline. As one can imagine from an area of such varied scenery, there is a real choice of activities to pursue and regions to explore.
An area of outstanding natural beauty, this is the centre of the famous Nine Glens of Antrim as well as the Causeway Coast . The Glens of Antrim are nine valleys with their own very individual characters. The elemental beauty of the Glens combined with their isolation have created an aura of myth and legend around these valleys - the pride of the county.
If you are using Ballycastle as a base, there are many exciting sights in the locality to experience. The famous Giant's Causeway , Bushmills Distillery and the Carrick-a-Rede rope bridge are all less than 10 miles from Ballycastle. Towering above the town itself, is Knocklayde Mountain which can be seen for miles around. On the side of this mountain you will find Ballycastle Forest which has two entrances and whose peace can be enjoyed while having a picnic or a stroll. Fifteen miles across the Irish Sea, you may well be able to see the Mull of Kintyre, a fifteen mile long peninsula at the narrowest stretch of water between Scotland and Ireland.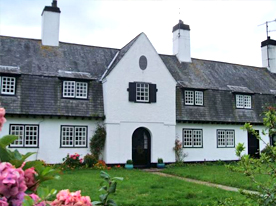 It is possible to take a short ferry trip to Raithlin Island , seven miles from Ballycastle. This is the only inhabited island off the north coast of Ireland. An unusually shaped isle - eight miles long and less than a mile wide, it has a history which is peppered with legend. Indeed, it is supposed to owe its existence to the mother of that great giant Fionn MacCool. Evidently, the giant drained Ireland of its whisky and so his mother travelled to Scotland to find some. Taking a mountain with her to use as a stepping stone, she tripped and fell, dropping this mountain into the sea and so it became the island we see today. The daily ferries make this lovelyisland accessible to visitors. It has become extremely popular with divers as over forty shipwrecks occurred in these waters. Ornithologists also visit the island from all over the world to study the impressive selection of puffins, guillemots, kittiwakes and razorbills on the island.
In June, the town hosts the Fleadh Amhrain agus Rince , a three day music festival. On the last Monday and Tuesday of August is the Ould Lammas Fair where you can buy two local delicacies, yellowman and dulse. Dulse is a dried seaweed, while yellowman is a chewy toffee. This seaside town is the first port of call for visitors travelling on the ferry from Argyll, Scotland. The ferry sails twice daily and the crossing takes about three hours.