Clifden
Clifden, 50 miles northwest of Galway , is the largest town in Connemara and is regarded as its capital. Surprisingly, it is not an old town, being founded at the start of the 19th Century by John d'Arcy, the local landlord, who lived in Clifden Castle , now a roofless ruin on the scenic Sky Road running westwards along Clifden Bay.
The famine of the 1840s retarded the town's growth, but it has now become a popular tourist centre. With its many fine hotels, guest houses and restaurants, it is the ideal base from which to tour the Beanna Beola mountains and the delightfully fretted coast of western Connemara. Other areas of natural wilderness, such as Derrygimlagh Bog, 4 miles south of Clifden, site of the former Marconi wireless station and where Alcock and Brown landed after their historic transatlantic flight of 1919, lie within easy reach of the town.
The scenery around Clifden is extraordinary. Clifden's striking skyline is dominated by the spires of the Neo-Gothic Catholic Church and nearby Protestant church. The Twelve Bens provide a wonderful backdrop to the town.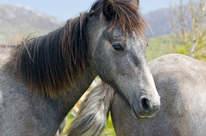 Clifden Castle is situated 2km from Clifden. This ruin overlooks the sea and can be reached by the farm track near the Sky Road. Once a Gothic mansion, the d'Arcys lived here until 1850 when the estate was sold to the Eyre family who lived here at intervals until the castle fell into ruin in the early 20th century.
On June 15 1919, Cpt John Alcock and Lt Arthur Brown, flew a Vickers Vimy 1900 miles from Newfoundland to Ireland. A journey which had taken 6hrs and 12mins, they landed in the Derrygimlagh Bog, near Clifden. A monument representing the wing of the plane stands on a nearby hill and the original landing site can still be seen.
Sturdy horses were needed in Connemara, with its uneven and rocky terrain. As a result of these conditions, a breed of pony known as the Connemara Pony, evolved. This breed has become famous world-wide. The Connemara Pony Show is a Mecca for breeders of Connemara Ponies, and takes place in Clifden each August.
Sky Drive: Take this exhilarating circular 7 mile drive, west of Clifden. Leaving the town past the Abbeyglen Hotel and passing Clifden Castle, you will have wonderful views of the town. The road forks and you can take the high or low road. The high road climbs to 500ft, you will pass the ruin of the old coast-guard station and experience wonderful views of the islands of Inishturk and Turbot. The low road will provide views of the wonderful beaches in this area.
The Clifden Arts Festival takes place in late Septmeber. Clifden plays home to a 10-day celebration of the arts. Poetry, storytelling, music, theatre, set dancing and art exhibitions are all part of this creative, welcoming and vibrant festival on the edge of the Atlantic Ocean.