Killaloe

Lying on the southern tip of Lough Derg on the Clare-Tipperary border 18 miles north west of Limerick city is the busiest fishing and boating centre in the Midwest region - Killaloe. The starting point of what is known today as the "Shannon Cruise" Killaloe is one of the principal crossings on the River Shannon. From here it is possible to navigate all the way to Lough Key in Sligo and in the summer Killaloe is packed with mooring barges and holidaymakers making this popular trip.
Killaloe was established during the 12th century by the High King of Ireland, Brian Boru, and has huge historical significance in that, at one stage, it was believed to be the capital of Ireland. An earthen fort called Beal Boru stands about a mile outside Killaloe and it is widely thought that this was the site of Kincora - the palace of Brian Boru which was destroyed in 1119. St. Flannans cathedral, so called after the first Archbishop of Killaloe in 639, dates back to the 13th century. However, it was not the first cathedral built here. The first cathedral was destroyed sometime in the 12th century and the beautiful Romanesque doorway of the present cathedral belonged to the original one. Near the doorway lies an early Christian Thogrim Stone - a unique piece which contains Scandinavian runic and Old Irish oghram (Latin) scripts and so is thought to have been written by a Viking convert.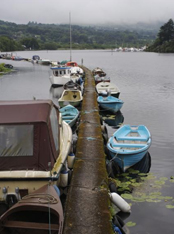 Lying just to the north of Killaloe you will find the picturesque 18th century style village of Mountshannon, so described as all buildings here are built of stone. Here, during the summer the small stone harbour is filled to capacity with fishing boats making trips to Holy Island. On this Island there are numerous remains of monastic settlements, four old chapels, a 27m round tower and numerous gravestones dating back to the 7th and 13th century offering the tourist an ideal opportunity to relish in the past.
Being so close to the Shannon there are plenty of outdoor activities available in the area with University of Limerick Activity Centre providing windsurfs, canoes, dinghies and wet suits. Water-skiing is also immensely popular here. The Shannonside Activity centre at Mountshannon also offers sailing, windsurfing, canoeing, pony-trekking, hill-walking and biking facilities. After an active day one will need to relax and enjoy the nightlife with traditional music available in one of the many pubs.