Mullingar
Mullingar is a prosperous market town, surrounded by an area of rich farmland. There are some magnificent loughs in the vicinity of the town. The Royal Canal, which runs nearby, was built in the 1790s in a bid to compete with the Grand Canal. However, it never managed to reach the same level of activity as the Grand Canal. Passenger business stopped in the 1880s and despite a revival during the Second World War , the canal was finally closed in 1955.
The main attraction in the town is the Cathedral of Christ the King, which was built in 1939. It contains Mosaics of St. Anne and St. Patrick by the Russian Boris Anrep. Over the sacristy, with the entrance from the side of the church, is a small museum of liturgical objects, which contains robes worn by St. Oliver Plunkett. Guided tours are available from June to September, however access is available all year round.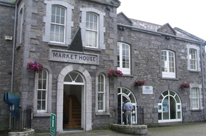 Other museums include the Market House Museum, which contains an unusual array of artifacts, and the Military Museum which contains artifacts from both World Wars and also the Irish War of Independence.
Travelling to and from Mullingar is no problem, as it is on many of the express bus routes to Dublin from the Northwest. Also a very good train service is available with up to 4 daily services to Dublin.