Tullamore
The county town of Offaly , Tullamore is the biggest town outside Dublin on the Grand Canal. With an attractive town square and the magnificent Charleville Forest Castle , Tullamore is well worth the visit.
Founded by the Bury Family in 1750, Tullamore took over from Daingean as the county town of Offaly. A famous disaster which took place in Tullamore was in 1785 when a hot-air balloon crashed resulting in the burning of hundreds of houses.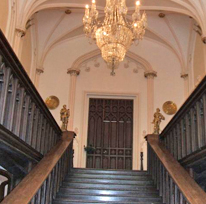 The main attraction around the town is the Gothic structure of Charleville Forest Castle. Designed by one of Ireland's most famous architects, Francis Johnston, it dates from 1812. Johnston was responsible for some of the Georgian Building which can be still seen in Dublin today. The castle grounds are well worth exploring. Set on 30 acres of gardens and grasslands, they allow the perfect opportunity for a walk in tranquil country.
Cruises to the west to Shannon and to the east to Edenderry and beyond are also available on the canal.