Cork Airport

Situated 5 miles(8km) to the south of Cork City Centre at Farmers Cross, Cork Airport is the ideal gateway to the South West of Ireland. Ease of access and a quality passenger experience in a state of the art new terminal are hallmarks of this Airport.
The Check-in area at Cork Airport is located on the ground floor of the Terminal.
Rental cars should be returned to the car rental return area (which is well sign-posted) prior to checking in. Passengers can then avail of a courtesy coach to transport them to the Terminal.
All airlines at Cork Airport require that passengers check in a certain length of time prior to Flight Departure time. As this time can vary, you should verify with your airline. Online check-in is available when departing on Ryanair or Aer Lingus and self service check-in kiosks are also available for use by Aer Lingus passengers
Cork Airport is conveniently located 8km from the centre of town on the south end of the N27 when coming from the North, West, or East; and off the R600 when coming from Kinsale.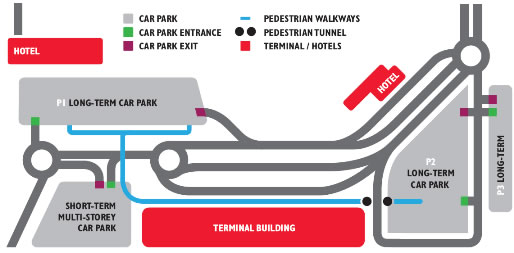 There is a taxi rank located outside the main terminal. The cost is approx. between EUR 10.16 and EUR 12.70 from the airport to City Centre and Central Railway station.
There are also buses leaving frequently to the centre of Cork.
Two competing bus operators offer links to the city. The Bus Eireann AirCoach runs at least hourly. The run to Parnell Place bus station is €4.10 single or €6.50 return and takes about 25 nminutes
The SkyLink Airport Express departs hourly on each of two routes, non-stop between the airport and the city centre, in about 15 minutes, serving the main hotel areas and costs €5 single/€8 ( return.
Car rental desks are located in the airport just opposite the arrival gate on the ground floor.
Many of Discovering Ireland Vacation's Guests have commented on the ease of transit through Cork Airport compared with other international Airports of its size and it is fast becoming more popular as the access airport for trips to Ireland or Ireland vacations
There are direct flights to Cork Airport from all the following cities:
AMSTERDAM-Schipol (Major transit Airport for connections to Ireland from North America and Asia)
BARCELONA
BELFAST
BERLIN
BIRMINGHAM
BRATISLAVA
BREST
BRISTOL
CARDIFF
DUBLIN (includes connections to Derry, Galway, Donegal & Knock with Aer Arann)
EAST MIDLANDS
EDINBURGH
FARO
GDANSK
GENEVA
GLASGOW
JERSEY
KATOWICE
LANZAROTE
LISBON
LIVERPOOL
LONDON:
- GATWICK
- HEATHROW (Major transit Airport for connections to Ireland from North America and Asia)
- STANSTED
MALAGA
MANCHESTER(Transit Airport for connections to Ireland from North America)
MUNICH
NANTES
NEWCASTLE
NEWQUAY
NICE
PARIS CDG (Major transit Airport for connections to Ireland from North America and Asia)
PLYMOUTH
PRAGUE
POZNAN
ROME
TENERIFE
WARSAW
Directions to Cork Airport from Cork City Centre:
1.
Head south on N22/St Patrick's St

0.5 km

2.
Continue on Grand Parade

0.2 km

3.
Turn left at S Mall

0.5 km

4.
Turn right at Anglesea St

0.3 km

5.
Turn left at Copley St

0.1 km

6.
Turn right at S City Link Rd/N27

Continue to follow N27

Go through 1 roundabout

5.9 km

7.
At Airport Rd Roundabout, take the 3rd exit

Go through 3 roundabouts
Accommodation near Cork Airport