Dublin Airport

Situated just 10km north from the capital city, Dublin Airport is Ireland 's busiest international airport serving holiday goers from Europe and visitors on Ireland Vacations from the U.S. Over 18.5 million passengers traveled through Dublin Airport in 2005 and over 20 million in 2006. Dublin Airport's main operators are Aer Lingus, Ireland's flagship airline, Ryanair, Ireland's biggest shorthaul, "cheap flights" airline and Aer Arann, Ireland's main domestic airline.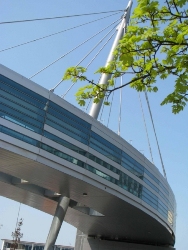 The Airport has excellent bus links to Dublin City. All major car rental companies have desks at the airport and there is a full range of shops, bars and restaurants near Dublin Airport. Dublin Airport also offers VIP hospitality in the Anna Livia Lounge, offering relaxation and added security and offering easy access to boarding gates.
Scheduled flights
Dublin Airport offers several domestic flights throughout Ireland and over thirty scheduled flights to and from Dublin to the UK. Dublin Airport has a wide network of routes throughout Continental Europe, while Aer Lingus and a number of U.S. and Canadian operators fly to Dublin Airport from various destinations in the United States and Canada. Dublin and Shannon Airport are the only European Airports with U.S. border preclearance.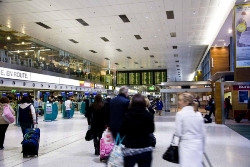 Some of the most popular destinations are:
Amsterdam, Atlanta, Barcelona, Berlin, Birmingham, Blackpool, Boston, Bournemouth, Bristol, Cardiff, Chicago, Cork, Derry, Donegal, Dusseldorf, Edinburgh, Frankfurt, Galway, Glasgow, Knock, Karlsruhe, Kerry, Leeds Bradfort, Liverpool, London City, London Heathrow, London Gatwick, London Luton, London Stansted, Los Angeles, Manchester, Munich, New York, Newark, Newcastle, Orlando, Paris Beauvais, Paris Charles de Gaulle, Salzburg, Shannon, Southampton, Vienna, Washington.
Accommodation in Dublin City
Traveling with Children? The Stork Exchange offer great value in Baby Seat Rental and Baby Equipment Hire at Dublin Airport