Crosshaven
Crosshaven ('Bun an Tábhairne' in Irish) is a village in South County Cork near the mouth of Cork Harbour and is a popular destination of choice for those planning a trip to Ireland..
On a visit to Crosshaven you can relax at one of its many cafes or bars or take a beautiful walk to enjoy the mixture of views of land, river and sea.
On approach to Crosshaven you will pass Drake's Pool about 2km upriver from Crosshaven. This is a magnificent setting of tranquility with woodland overhanging the calm pool below. The name of Drake's pool comes from an incident during in the 1700's when Admiral Francis Drake eluded the Spanish Armada by sailing upriver at Crosshaven and taking cover at this spot.
Crosshaven is home to the world famous Royal Cork Yacht Club, the world's oldest Yacht Club and hosts the biannual Cork Week, Ireland's largest Sailing regatta. Tracing it's roots back to 1720, the Royal Cork Yacht Club (RCYC) has been located in Crosshaven for over 40 years.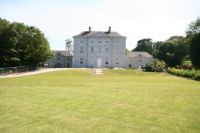 Among the splendour of Crosshaven, the exquisite Georgian Crosshaven House stands on a perch overlooking the village with commanding views of Cork Harbour. Frequently visited by those on an honeymoon in Ireland, the house was built in 1759 by the Hayes family and today is operated as a private guesthouse that can be rented for events such as weddings.
Public tours of Crosshaven house are available in February May and September.
Just outside Crosshaven village on the shore of the harbour stands Camden Fort, recognised internationally as one of the world's best examples of a Coastal Artillery Fort. Fortifications at Camden date as far back as 1550 and were further developed in 1600.
After the Battle of Kinsale, however, the Fort was abandoned and fell into disrepair. Towards the end of the seventeenth century the Fort was again fortified by the Jacobites as part of the effort to block William's naval forces.
In 1690 they attacked the Williamite fleet as it entered Cork Harbour, but Camden was silenced by a party sent ashore to attack it.
with plenty of Restaurants in Crosshaven and hotels near Crosshaven to choose from there has not been a better time to visit Crosshaven.